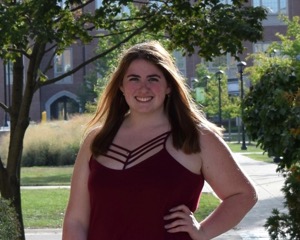 Meet Olivia Shackleton, our Campus Editor! She is a senior, and is double majoring in communication and political science. Her favorite extra curricular activity is working for
The Carroll News
where she spends all her time reading, writing and editing. Outside of the newspaper, Olivia loves theatre and art.
Newsies
is Olivia's favorite musical, and you can find her listening to the soundtrack daily.
In the future, Olivia hopes to pursue political journalism. Her work in political science and communication classes as well as with The Carroll News makes her extremely excited to enter into this field after she graduates.
You can contact Olivia at
[email protected]
Olivia Shackleton, Campus Editor
May 01, 2020

Senior Column: Onward On!

(Story)

Apr 02, 2020

Academic pass/fail policy in the works in response to student petition

(Story)

Mar 23, 2020

Campus Ministry offers "God on the Go"

(Story)

Mar 14, 2020

Campus Column: The coronavirus can be devastating, even if you don't contract the disease

(Story)

Feb 27, 2020

Students' thoughts on Student Accessibility Services

(Story)

Feb 27, 2020

Campus Column: Theatre is Magic

(Story)

Feb 13, 2020

El Salvador immersion: Students learn about social and economic issues plaguing the country

(Story)

Jan 30, 2020

Campus Column: Take the Leap

(Story)

Jan 30, 2020

Number of students seeking mental health resources spikes

(Story)

Jan 23, 2020

John Carroll Student Government celebrates 100th inauguration

(Story)

Dec 12, 2019

Wenzler's Warriors show support through Dive Bar fundraiser

(Story)

Dec 11, 2019

Students Demand Action advocate for common-sense gun laws

(Story)

Nov 21, 2019

Catching Up With Campus: Working 9 to 5

(Story)

Nov 21, 2019

2020 presidential candidate "Mellie Grant"

(Story)

Nov 14, 2019

New Alcohol Service and Animal Policies effective as of Oct. 31

(Story)

Nov 14, 2019

Catching up with Campus: Is self-plagiarism wrong?

(Story)

Nov 14, 2019

Erin Ahern advocates for student voices as Student Gov. president

(Story)

Oct 17, 2019

Pro-life chalk demonstration gets defaced

(Story)

Oct 17, 2019

Humans of JCU: Noah Bickart

(Story)

Oct 10, 2019

CampusShield App and campus safety initiatives

(Story)

Oct 09, 2019

Catching Up With Campus: Is it Gifted to be Gifted?

(Story)

Oct 09, 2019

Updates on campus-wide LGBTQIA+ inclusion efforts

(Story)

Oct 03, 2019

Don't click: Phishing scams are avoidable

(Story)

Sep 26, 2019

JCUPD Chief and Student Government Executive VP talk Campus Safety

(Story)

Sep 26, 2019

Campus Column: Alone in the Crowd

(Story)

Sep 24, 2019

Advantage: John Carroll Tennis Launched Court Campaign

(Story)

Sep 18, 2019

Delts left high and dry

(Story)

May 01, 2019

Campus Ministry ends Manresa reunion tradition at O'Rielly's

(Story)

May 01, 2019

Column: Apathy afflicts many JCU students

(Story)

Apr 14, 2019

Effects of stress on college students' eating habits

(Story)

Apr 14, 2019

Johnson responds to faculty outcry regarding academic prioritization

(Story)

Mar 28, 2019
Mar 27, 2019

Administration does not renew Dean Farrar's 4-year contract

(Story)

Mar 27, 2019

Faculty claim exclusion in academic prioritization process

(Story)

Mar 22, 2019

On an Evening in Roma

(Story)

Feb 20, 2019

Anonymous alum pledges $20 million to JCU

(Story)

Feb 13, 2019

Does JCU Value Adjunct Professors?

(Story)

Feb 13, 2019
Feb 07, 2019

Stop Killing Print

(Story)

Feb 07, 2019

Celebrating 50 years of women at John Carroll University

(Story)

Jan 31, 2019

Does JCU value adjunct professors?

(Story)

Jan 30, 2019

Friends with Academic Benefits

(Story)

Jan 24, 2019

Student Union inagurates Mike Bishop

(Story)

Jan 24, 2019

How much does JCU value adjunct professors?

(Story)

Jan 24, 2019

Lin Manuel-Miranda is Much More Than a Broadway Star

(Story)

Dec 06, 2018

Dealing with Anxiety

(Story)

Nov 15, 2018

Journalists Against the World

(Story)

Sep 02, 2018

LASA stopped by Border Patrol

(Story)

Aug 25, 2018

Boler family and JCU board members donate $15 million to create the Boler College of Business

(Story)