Phoebe Bridgers "Reunion" concert encapsulates autumn
With concert season in full swing and the emergence of autumn, many are looking forward to listening to music that fits the energy of this time. Phoebe Bridgers performed at Jacob's Pavilion at Nautica on Sept. 29 with her "Reunion Tour." Her music epitomizes the autumn feeling. 
The concert started off with the band MUNA as their opener, and they brought the first spike of energy to the concert. They were engaging and electric, bringing everything you could ask of a show opener to the performance: loud music, bright visuals, enthusiasm about the headliner and gratitude for listening to their music. They played original tracks such as "Pink Chiffon" and "Crying On The Bathroom Floor," throwing flowers in the crowd and dancing around the stage. MUNA's tone was different from Phoebe Bridgers, as they had more dance music. It was a great way to warm up the crowd. 
Phoebe Bridgers came out after and the crowd exploded with excitement. She was engaging with the crowd, often talking and responding to the audience. She gave an anecdote about her time and the Rock and Roll Hall of Fame and even played a song not on the setlist because of audience chants for the track. She played through her sophomore album "Punisher," along with a few fan favorites from earlier in her career. The music was somber compared to that of MUNA, matching the autumnal vibe many people are looking for. Her voice was haunting and emotional as she delivered an incredible performance. 
Kaeleigh Patriski '24 attended the concert and said, "Phoebe is a phenomenal singer who really knows how to touch the hearts of her audience through her music. Seeing her live made the connection feel so much more real. Her music always tells a story of a young woman trying to find her way through life and her audience connects to that." Bridger's music can impact many people stuck at impasses in life, especially those of college ages.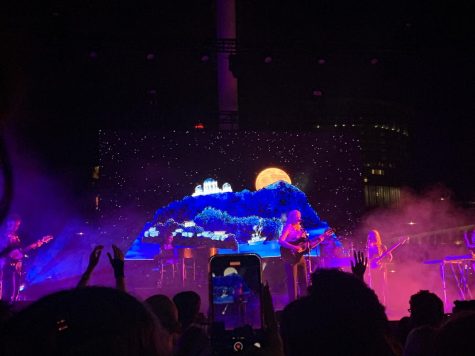 The show reaffirmed my notion that Phoebe Bridgers makes the perfect music for fall. It provides a reminder of the autumn spirit, as it has similar chord progressions and lyrics that many people associate with this changing season. Tracks such as "Motion Sickness," "Funeral," "Halloween" and "Chinese Satellite" emulate the chilling feeling that fall can give you. If you are looking for that feeling in your playlists this autumn, she is a top pick for creating that spirit.