Your Cleveland Thrift Guide
As Halloween quickly approaches and we begin the frantic search for a last minute costume, challenge yourself to stray away from the temptations of buying from Amazon or other fast-fashion brands. Instead, venture to your local thrift or vintage store for cheap, sustainable and fashionable finds. Thrifting provides an opportunity to find unique and vintage items while benefiting the environment and your community. Whether you're looking to expand your wardrobe this fall or craving a Saturday afternoon adventure, these five shops in the Cleveland area will get you feeling thrifty. 
"
When you leave the store you feel special because you now have clothes that are unique to you!"
— Mary Kate Boyle '22
Electric Eccentric (13005 Larchmere Blvd, Shaker Heights, OH)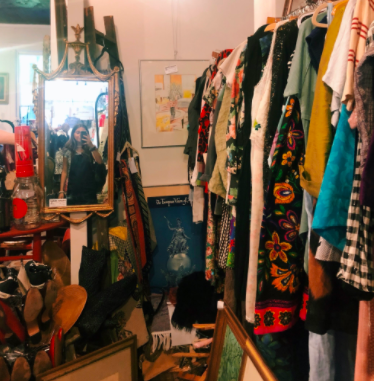 A vintage clothing boutique with new and used household items, eccentric clothing pieces and other goods. Walking into this underrated Cleveland gem will leave you speechless as the shop is filled from entrance to exit with unique items. It is impossible to not stumble across something eye-catching and perfect for you. If you are looking for affordable and retro pieces for your home or apartment such as utensils, books and lamps, this is the place for you. 
Goodwill (6605 Mayfield Rd, Mayfield Heights, OH)
With more than 3,000 stores open nationwide, Goodwill never fails to provide a myriad of clothing options to all. Most stores are quite spacious and well-organized compared to other local thrift stores. If you're looking for a specific item of clothing for a party or event, then Goodwill may be your best bet. They have a wide selection of jeans and tees which you can customize and upcycle to best suit your style and season. 
Avalon Exchange (Cleveland Heights: 1798 Coventry Rd, Cleveland Heights, OH 44118. Ohio City:  2925 Detroit Ave, Cleveland, OH 44113). 
My personal favorite Cleveland thrift spot, Avalon Exchange, is a "buy sell trade" resale clothing boutique. This curated thrifting heaven seeks contemporary and vintage pieces from the community and resells them at reasonable prices. You will get lost in the goodness of vintage Banana Republic blazers, rare sneakers and Ralph Lauren zip-ups. They additionally sell their own accessories such as fun sunglasses, earrings and socks. Avalon is sure to give your closest a needed revamping and will help to up your fall game. Mary Kate Boyle '22 shares her love for Avalon: "I love all the unique styles and products that Avalon has. When you leave the store you feel special because you now have clothes that are unique to you!"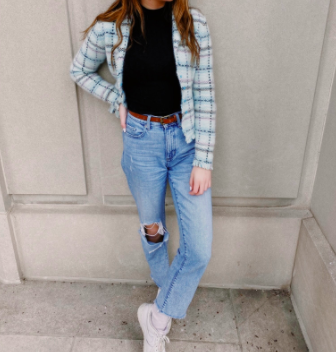 The Hidden Pearl (2206 Front St, Cuyahoga Falls, OH 44221)
Located on Front Street in Downtown Cuyahoga Falls, The Hidden Pearl specializes in fashion through the 1970s. Many of the vintage goodies found include designer jewelry, hats, textiles and much more. Operating since 1984, the tiny shop pervaded with rare pieces still stands lively as ever.  
Moonstruck CLE Vintage (11917 Mayfield Rd, Cleveland, OH 44106)
You may have been too distracted by the delicious Italian food to notice this vintage shop on Mayfield road in historic Little Italy. Moonstruck is filled with collectibles, home decor, vinyl records, handmade goods and so much more. This tucked away spot strives to handpick items that have classic and quirky qualities. Moonstruck is the quintessential shop for buying birthday or Christmas gifts for friends and family as well. There's no such thing as too much quirkiness!