Harry Styles "Love on Tour" show comes to Cleveland
After being postponed twice due to the world-altering COVID-19 pandemic, Harry Styles has finally been able to perform his second solo tour, Love on Tour, in the United States. On Oct.18, Styles came to Rocket Mortgage Fieldhouse in Cleveland, Ohio to perform to a stadium full of die-hard, adoring fans.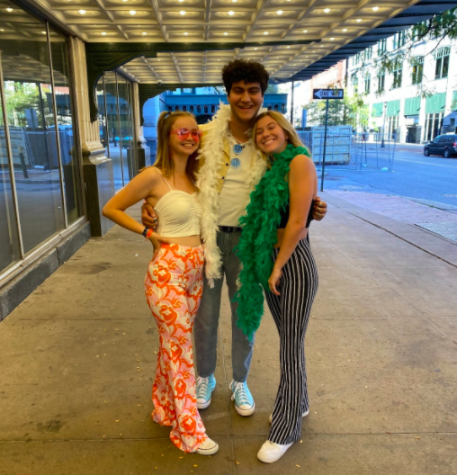 Thousands of fans lined up in their feather boas, merchandise, sparkly makeup and statement outfits to fill up the sold-out show in Cleveland. He performed 11 of the 12 songs off of "Fine Line" as well as six off of his previous album "Harry Styles." Just like the album's namesake "Fine Line," Styles was able to straddle the fine line between his heartbroken, emotional pieces along with his dynamic, catchy and invigorating music. One minute he sombered the crowd with his emotional renditions of songs including "Falling," "Cherry" and "Sign of the Times" while the next he hyped up the crowd with his more rock-inspired songs like "Carolina," "She," "Only Angel" and "Kiwi." Of course, he did not forget to perform his popular radio hits including "Watermelon Sugar" and "Adore You."
Styles' performance was captivating and electrifying. Fans sang, laughed, cried and danced their way through the night, experiencing what JCU student Lily Free '24 describes as "one of the greatest nights of my life." Although several fans agree with Lily and claim it was the best day of their lives, Styles challenged his fans onstage to try to have more fun than he was having — he doubted their ability to do so. 
Styles owned the stage; he sang his heart out, danced, engaged with the crowd on all four sides of the arena and encouraged everyone present to let loose and be unapologetically themselves. He stressed the importance of loving everyone around you and advocated for both the LGBTQ+ community and the black community by dancing with pride flags and waving a Black Lives Matter flag.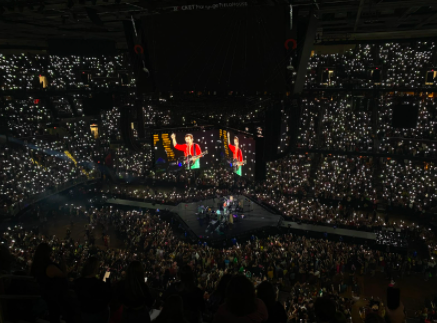 His talent to entertain a crowd as well as his acceptance of his role as an inspiration to a generation was shown through his performance. It was an unforgettable experience that left me speechless one second and screaming the lyrics the next. Fans, myself included, are looking forward to his next album and tour to watch his growth as an artist and experience the feelings his music evokes.