Blue Streaks Football dominates on senior night
On Saturday, Oct. 30, the John Carroll University Football Team (6-2, 6-1 OAC) took on Wilmington College (0-8, 0-7 OAC) for senior night at Don Shula Stadium. 
The Blue Streaks took control of the game from the start and celebrated their seniors in dominating fashion, taking down Wilmington 50-7 for their fifth straight win, and sixth victory of the season. 
Prior to kickoff, John Carroll honored 35 seniors and their commitment to the program over the last four years. Among the seniors who stepped up this weekend was quarterback Jake Floriea. Floriea shined through the overcast weather, throwing for a career high 366 yards and 4 touchdowns. Floriea also added a touchdown on the ground as well. 
Wide receiver Brennen Fugh '23 was Floriea's top target on the day, going for 162 yards and a touchdown through the air on 10 catches. 
"I thought our game went very well this weekend," said Fugh, "Being able to win our last game of the season at our home field and on senior night was an incredible feeling. Huge shoutout to all of the fans who continue to support, the coaches who got us to where we are, and every player for always being there for each other. With only two games left, we really have to give it our all and take in every moment, and hopefully bring home two more wins."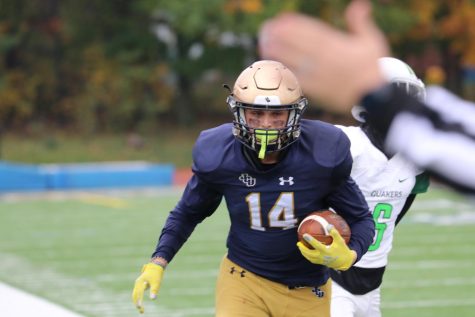 Devin Limerick added his own 6 catches for 80 yards and a touchdown, while Tadas Tatarunas and Kenny Cross were responsible for Floriea's other 2 touchdowns. 
The Blue Streaks out-rushed the Quakers 64 to 30, and also completely outgained the Fightin' Quakers in terms of total offense as well, as they had 430 yards compared to Wilmington's 207. 
This defensive effort was one of JCU's best of the season, allowing only 207 yards of offense, much less than their season average of 300 per game. They started the game off red hot, recording a two-point safety within the first two minutes of the game. They didn't let up from there, allowing only one touchdown and recording an interception while also recording a fumble recovery. 
Bricker Thiel '23 showed off the defensive side with another impressive day on the gridiron, tallying 7 total tackles, 1.5 of them being for a loss, a sack and also forcing a fumble. Six  Blue streaks totaled 5 or more tackles; a defensive coordinator's dream. Graduate student Alec Wallace came away with the defense's lone interception. Overall, a very impressive day for the JCU Defense. 
Overall, The Blue Streaks were in the driver's seat the entire game, jumping out to a 33-point lead before the scoreboard lit up for the Fightin' Quakers. After allowing a 61-yard consolation touchdown for Wilmington, the Blue Streaks didn't take their foot off the gas, scoring another 17 unanswered points on their way to a 50-point victory, the most points they've scored in a game this season. 
The Blue Streaks look to extend their win streak to six games with a tough matchup against OAC rival Heidelberg University (6-2, 5-2 OAC) in Tiffin, Ohio next Saturday, Nov. 6.