Streaks of the Week: Oct. 29-31
Each week, The Carroll News sports section names five Blue Streak athletes "Streaks of the Week." Congratulations to this week's athletes on their outstanding performances.
Football: Fifth-Year Jake Floriea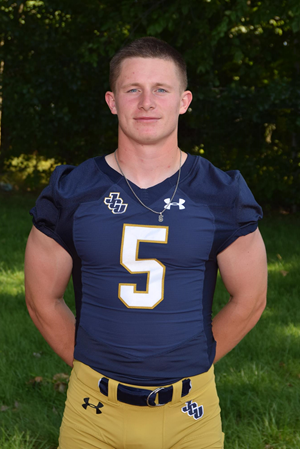 In his final guaranteed home game of his career, Floriea delivered. The fifth-year senior quarterback threw for a career-high 366 yards and a season-high 4touchdowns in a 50-7 rout of Wilmington. The 366 yards are the most by a John Carroll signal caller in a single game since Mark Myers threw for 374 against Baldwin Wallace in 2014 and the most against Wilmington by a JCU quarterback since Tom Arth in 2001.
Men's Soccer: Fifth-Year Will Turrittin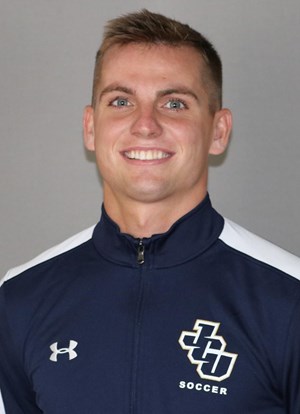 Turrittin has made a case for becoming the OAC's only four-time Midfielder of the Year while leading JCU to its fourth straight OAC regular season title. The fifth-year senior had a goal and an assist in the victory against Heidelberg last Wednesday, tying former teammate Jake Lombardo for fifth most assists in a career with 25. Earlier this season, the 2019 All-American also broke the JCU record for most career starts.
Volleyball: Senior Anna Coughlin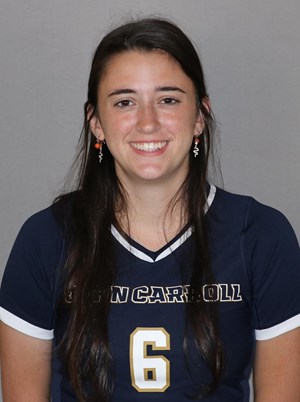 Coughlin was a primary reason for the Blue Streaks' hot ending to the regular season which helped them clinch a spot in the OAC Tournament. In a nail-biting loss to Heidelberg last Wednesday, the senior recorded 27 digs which was a season-high against OAC opponents.  During the OAC finale against Wilmington, she added 26 digs which was only the second time she has tallied 20 or more digs in back to back matches.
Men's Cross Country: Graduate Student Andrew Miner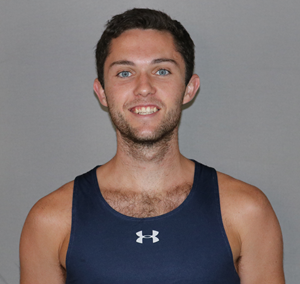 Miner was a key player in John Carroll University's first ever OAC men's cross country title this past weekend. The graduate student crossed the line with a time of 25:33.3, good for 10th place and a career-best at the OAC Championship. Miner also earned First Team All-OAC honors with fellow teammates Alex Phillip (OAC champion), Jamie Dailey, Ian Pierson, Ryan Champa and Barrett Scheatzle.
Women's Cross Country: Junior Sydney Jenko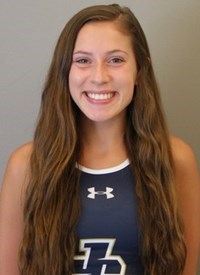 After not racing all season due to injury, the defending OAC champion Jenko was a huge reason why the Blue Streaks repeated as OAC Champions as a team. The junior finished in fourth place with a time of 23:40 and was one of five JCU runners to land a top-10 finish.