A career to remember: John Carroll University quarterback Anthony Moeglin walking away from football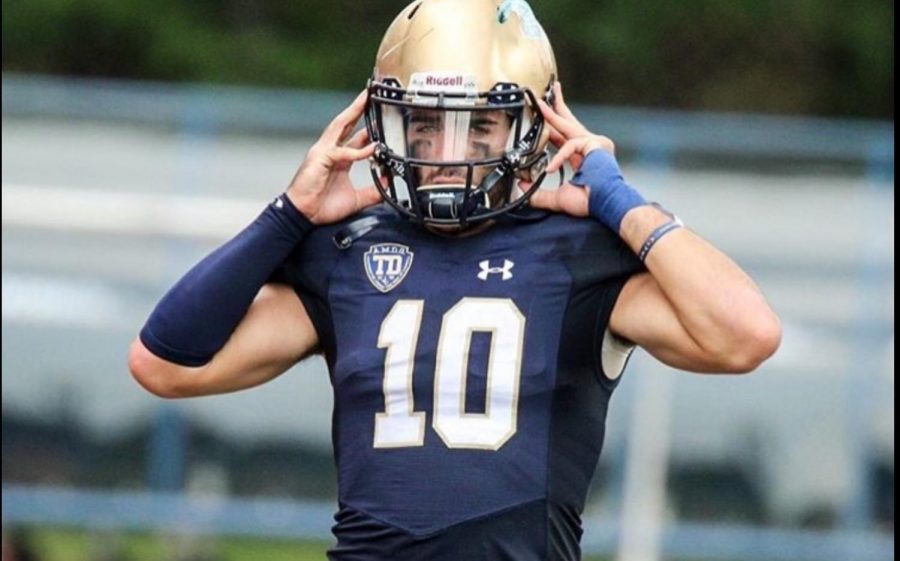 John Carroll University quarterback Anthony Moeglin still remembers the last play against the University of Mount Union in 2016, when the Blue Streaks defeated the No. 1 ranked Purple Raiders, claiming the school's first Ohio Athletic Conference championship since 1989.
"It was tricks right, three blitz, x-trojan, all-go, special twist. On the right side we had trips and, on the left side of the formation, we had a little hitch route with a back running a wheel up the sidelines, in case we had man-to-man coverage. I was going to that side," Moeglin said. "If it was zone coverage, we had No. 2 and 3 on the right side, switching their seams going up the middle, and a No. 1 (Marshall Howell), he was the 'Oh shit, nothing is open. We are going to throw it up' guy."
A great play design, but it did not exactly turn out that way. Moeglin remembered it further:
"It was third and 11, there was 1:28 left, and we were on the 24-yard line. Willy [Woods] was on the twist route and, for some reason, I threw it  — I probably should not have. It was in triple coverage, but I squeezed it right over the linebacker into the hands of Willy for a touchdown. And the rest is kinda history."
Moeglin's three-year career as JCU's starting quarterback was great, but no one would have guessed the outcome, considering the start.
A native of Canton, Ohio, and alumnus of Louisville St. Thomas Aquinas High School, Moeglin spent his first 18 years of life with Mount Union in his backyard. The Purple Raiders pursued Moeglin as a potential quarterback recruit, but he opted to go 60 miles north to John Carroll instead, to play football. There, he threw 60 touchdowns in his career as a Blue Streak.
His 60 career touchdown passes rank fourth all-time in the John Carroll University record books and that is not the only record that Moeglin holds following his three-year career in Blue and Gold. He also ranks top-five all-time in completions (569) and passing yards (6,588), a good chunk of those numbers coming during a record season for the program in 2016.
The Blue Streaks made it all the way to the Final Four in 2016, only the second time in school history for the football program to reach that point. The other time was in 2002, when Tom Arth led JCU in his senior season to the Final Four and lost to Mount Union 57-19. Moeglin accomplished what Arth did not, beating Mount Union.
Although Arth did not beat Mount Union during his playing career, he was Moeglin's most important mentor during the quarterback's first two years at John Carroll — serving as the head coach up until the 2016 season. The 2016 team, coached by Arth and quarterbacked by Moeglin, hosted two playoff games at Don Shula Stadium — another first-time accomplishment for the program. They defeated Olivet 37-12 and No. 18-ranked Wesley 20-17 in overtime.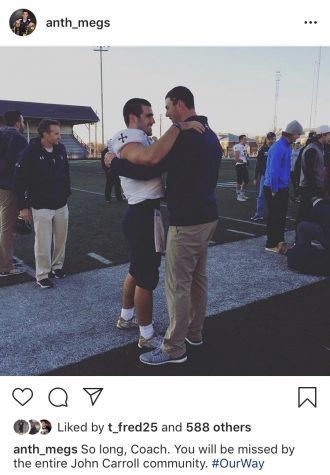 Moeglin remembers that vividly too. "We played a really good game against Olivet," he said. "I played a really bad game against Wesley, but we were able to squeeze it out."
The next two weeks, the Blue Streaks travelled 463 miles to Whitewater, Wisconsin, to play the No. 2-ranked Warhawks. JCU defeated them 31-14. The next week, they travelled 528 miles back to Wisconsin-Oshkosh to play the No. 4-ranked Titans. The magic Moeglin created concluded following a loss with a final score of 10-3 in 16-degree weather. Moeglin remembers that one as the best time of his life.
"The two most fun trips of my life were going to Wisconsin in back-to-back weeks. We beat Whitewater and unfortunately lost to [Wisconsin] Oshkosh in the semifinal," he said. "It was an incredible experience, one that I will never forget in my life."
Moeglin ended his "redshirt" freshman season with the most pass completions (267) in a season, the third-most passing touchdowns (29) in a season, and the fifth-most passing yards (2,800) in a single season. Those numbers accompany his former head coach Arth in the record books. Arth played quarterback at JCU and eventually made his way into the NFL.
"To be top-five quarterback at this school is pretty special. It features a lot of great names in Tom Arth, Mark Myers, Nick Caserio, P.J. Insana. Those names are incredible names. Arth played in the NFL. Myers was going to be an NFL draft pick and was a Division I recruit. Caserio is the GM of the Patriots," said Moeglin. "Those guys are pretty special. Coach Arth and I have a really good relationship. Even when I talk to him, he lets me know how special that is. It is more special looking back than (it was) going through."
Moeglin will have plenty to look back on, now that his career as a Blue Streak is over. He capped off his tenure in his "redshirt" junior season with Honorable Mention recognition from the OAC, throwing 14 touchdown passes, 1,796 passing yards, and 131 completions, and also adding 374 rushing yards and four scores on the ground — leading JCU back to the postseason. These numbers were impressive, considering they were recorded in a season where the wear and tear took a toll on his body, leading to the decision to walk away with one year left of eligibility.
"Things were looking good for us and then the season started to take its toll on me. My body was not responding the way it used to. Things that only took one day to heal were taking three, four days. I would get to that Wednesday/Thursday practice and I was still feeling Saturday's bumps and bruises — that can take a toll on you," he said. "By the end of the season, I would have to sit out Tuesday's practice because I could not physically go. My body was out. Your body talks to you," he said.
"I had to ask the question to myself: What do I want to do with my life? I have some things on the uprising that would be tough opportunities to pass up. As the year went on, I began to see the writing on the wall. We had a great season, one we can hang our hats on and something that I can be proud of and we as a team can be proud of. It was the right time for me to hang them up."
Those things that Moeglin referred to as on the uprising, are starting to rise. He is currently working in the marketing department of the Cleveland Indians, hoping to build a career in sports business. Surprisingly, Moeglin does not want to enter the coaching ranks or the personnel side. He wants to pursue the business side instead.
"The ultimate goal — I want to stay in sports — is to be an NFL front office. When you are on the business side of things, there is 100% more stability. It is like going to work every day," he said. "It is not coaching every day. You have a desk and a computer and you are an employee. I want to be the president of an NFL team and run the whole business operation. It is super interesting to me and pretty cool."
As for now, Moeglin will graduate in May of this year with his Bachelor of Arts in Marketing, walking away with one year of eligibility left to play football. That, for Moeglin, is what made the decision so difficult.
"It is tough to know that you have one year to play a sport that you can never play again. I will never play a football game, ever again. You have to be completely okay with it," he said confidently, sitting upright, with his hands folded in his lap, and with a bit of remorse behind his words. "If I was going to come back to the team, I would have to be 100% committed to the team. I knew I was not going to be.
"All the close people in my life are moving on from football and doing different things. I could not commit to our team and leave them hanging. To leave behind a sport that has been my entire life is going to be tough, but it is something that needs to happen. All things come to an end.
"Because the decision was so hard, I knew it was a great thing for me. It was one of the best parts of my life. It is something I will never forget."