Remembering Betty White
As 2021 closed, people all over the world joined together to memorialize Betty White's passing on Dec. 31, 2021, just short of her 100th birthday. White was born Jan. 17, 1922 in Oak Park, Illinois.
White's career in television began in the late 30s when she began working as an assistant in a television studio. From then on she gained popularity through her various roles, starting in the 50s when she launched her show "Life With Elizabeth." Another popular role she played was as Rose Nylund in the hit show "Golden Girls" in the mid 80s to early 90s. White continued on in her career, appearing in various shows such as "Hot in Cleveland," "That 70's Show," "Saturday Night Live" and even movies like "The Proposal" and voice-acting in Dr. Seuss' "The Lorax."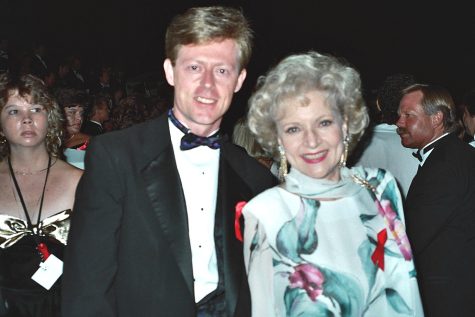 In her 99 years, White accomplished many things. In 1951, White became one the first women to be nominated in the Emmy Awards as best actress in TV. Since then, she earned five Emmys and 21 nominations. She also received the Screen Actors Guild Life Achievement Award in 2010 and a Lifetime Achievement Award in 2015. White also supported and donated to many charities such as: Actors and Others for Animals, American Heart Association, Human Rights Campaign, Special Olympics, The Trevor Project and many more.
It's no secret that Betty White has touched the hearts of millions. One such is John Carroll professor Bob Noll, who met her while working as marketing director and assistant producer for "The Kenley Show," which produced Broadway musicals and plays starring movie and TV stars. "Betty appeared there a few times," Noll stated, "as did her husband Allen Lunden." Allen was in the musical "Chicago" and she came to Kenley Players during the run to celebrate their wedding anniversary. When describing White, Noll noted that she was "easy to talk to" and "down to earth." According to Noll, she was highly regarded by everyone for being a "warm and nice person."
Betty White will live on in our memories forever, for she has made an immense positive impact on people from around the world. May she rest in peace, knowing she is an inspiration to many and will live on in our hearts.