COLUMN: Reframing the Mindset: What does a Buffalo Bills playoff loss really mean?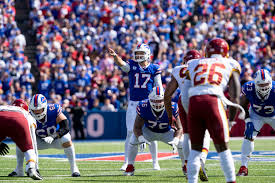 As devout Buffalo Bills fans, there is no doubt that we can strategically examine the outcome of Buffalo's final playoff game that occurred on Sunday, Jan. 23. 
The Buffalo Bills fell short to the Kansas City Chiefs in the divisional round of the NFL playoffs, 42-36. The loss itself was, as a Bills fan myself, gut-wrenching. 
After years of being manhandled by the New England Patriots, the emergence of quarterback Josh Allen and new offensive weapons like Stefon Diggs, Gabriel Davis and Cole Beasley proved that Buffalo was a serious contender in the AFC. 
There was hope that the Patriot dynasty was finally terminated.
Even better, after a statement 41-17 victory against said "mandhandlers" in this year's initial round of the playoffs, it almost seemed as if the Bills, this current season, were destined for a picture perfect post season playoff run.
But, arguably, the most upsetting yet realistic piece about the loss is that we, as Bills fans, have absolutely no power over the outcome. 
We can't reverse time to kick a "snub" ball to waste seconds at the end of regulation, play better defense despite being utterly exhausted, or choose heads over tails in the overtime coin toss. 
Yes, I'm calling out the "arm-chair" football enthusiasts that claim that they could run a football team better than an expert NFL coach. 
Give it a rest. Yes, the result of the game was so no doubt upsetting (I shed some tears), but we all are working on reframing our mindset, little by little.
Instead, Buffalo fans should come to realize that our time is within the near future. 
The phrase, "Rome wasn't built in a day," although seemingly cliche, proves to be a good representation of how it feels to be a Bills fan.
We wait for years. After acquiring Allen and making our first playoff appearance since the 1990s, the anticipation of Buffalo success only grew. We win the AFC East two years in a row. Fans witness home playoff games that could not have been dreamt off just three years prior. We made it. But, not quite yet.
Buffalo ends up losing to the Chiefs two years in a row, the first matchup, a 38-24 Chiefs win, showing that Kansas City will remain a dominant force as long as they are under the leadership of quarterback Patrick Mahomes. The second time, just last week, the feelings of victory were almost in the clutch of Western New York, and, as mentioned, we fell short.
It's not fair. In their second meeting in the playoffs, Allen threw four touchdown passes and logged 329 yards. He miraculously converted on 4th downs in the most maniacal, unprecedented way. 
Davis found freedom and open turf for four touchdown receptions. The offensive performance was nearly perfect. But, it becomes problematic when the opposing team can do just the same.
"I'm super proud of our guys throughout this season and the ups and downs. I know it's disappointing right now, it hurts right now," expressed Allen in a post-game interview.
But, the realization is that Buffalo is a contender. We thought it was our time to navigate to the Super Bowl, but I believe that this year's loss, especially, is a depiction of growth. 
We have an edge on Kansas City, shown in our battle-to-the-end mentality and our ability to stay within victory's reach against all doubts and odds. We were so close, which means we'll be that much further into the journey next year. 
It is undoubtedly a process to completely transform an organization in a matter of years, and that is why we return to the eye-roll triggering statement of "Rome wasn't built in a day."
"You can say it's going to be better, we're going to learn from this, it's very cliché and nobody wants to hear it. I truly believe that this unit will learn from this. We've got a great young squad and a lot of guys coming back next year. We've just got to use this as fuel for the fire," reflected Allen following the devastating loss.
Success takes time and within that allotted interval of passing days and weeks, we realize that it's the journey that makes for consistent triumph.
Beyond that, our experiences as exhausted and relentless Bills fans will one day pay off. When that day comes, nothing else and no other history will matter.