JCU Women's Swimming & Diving captures six-peat at OACS
On Saturday, Feb. 21, the John Carroll University Women's Swimming and Diving program sealed the deal earning their sixth straight Ohio Athletic Conference Championship title. 
"I am incredibly proud of our women," said John Carroll Women's Swimming and Diving Head Coach Tanner Barton. "Across the board, our ladies stepped up and won their sixth consecutive championship. It was a true team effort."
Coming into the OAC Tournament, the women's swimming and diving team knew it would be no easy task to come away with the hardware. 
On the opening day of OACS, Wednesday, Feb. 16, the Blue Streaks quartet of Anna Glass '24, Maddie Panus '23, Gwyneth Hamilton '23 and Ashley Lynch '23 took home the first place honors in the 800 Free Relay. Coming into the race, the quartet was ranked as the third seed, but cut an immense amount of time to finish in first with a time of 7:56.08.
As the Blue Streaks competed on the second day, they started the day on a high note capturing a victory in the 200 Freestyle Relay from Glass, Lynch, Kyleah Gaydos '22 and Hamilton. 
Throughout the weekend, multiple swimmers stepped up to earn crucial points for the Blue and Gold, resulting in their first place victory. 
"There were so many events where we had multiple swimmers in the A finals," noted Barton. "Not only did we score a lot of points in these events, but it speaks to the speed and depth we have in our program."
Friday night was when John Carroll began to pull away in the standings from other teams as they picked up much needed points. 
Likewise, Friday night's finals started with graduate student Spenser Kale, Regan Gunzy '25, Monica McKie '23 and Lynch winning the 200 Medley Relay by .04 seconds against Ohio Northern. 
Another notable race from Friday night was the 200 Free, where Hamilton and Lynch took home first and second place with times of 1:56.39 and 1:56.83, respectively. 
On the fourth and final day of the OAC Tournament, John Carroll pulled away from their opponents, ending with 950 points, followed by 744 points from Ohio Northern and Mount Union with 716. Baldwin Wallace and Wilmington captured fourth and fifth place, with 433 and 195, respectively. 
Hamilton was one of the most significant contributors throughout the extended weekend for the Blue and Gold. Hamilton finished in first place in six out of the seven events she competed in. Hamilton's victories included a first place finish in the 50 Free, 100 Free and 200 Free.
On Saturday, Hamilton was named OAC Women's Swimmer of the Year for her outstanding performance throughout the season.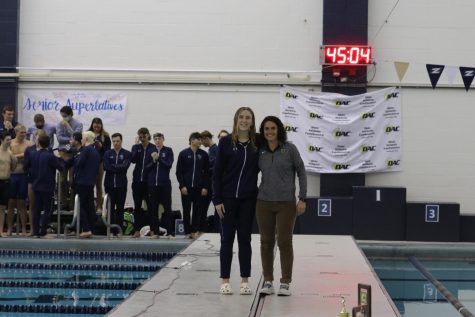 "Gwyneth Hamilton had a championship for the record books," said Barton. "Competing in sprint events can be incredibly difficult, especially because so many swimmers are similar in speed, but Gwyneth distanced herself from the rest of the conference. She was a true leader for our team."
On the side of diving for the Blue and Gold, the women swept the podium. 
On Friday and Saturday, Catherine Steinwachs '23, Kathryn Visco '23 and Sarah Hanlon '23 swept the 1 Meter and 3 Meter events, earning them All-OAC honors in both events. 
Steinchwachs picked up another notable honor on Saturday evening and she was named OAC Diver of the Year for her execution throughout the season.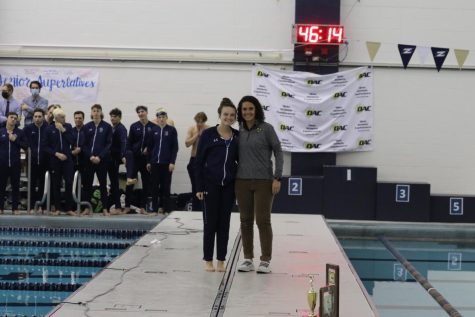 "Catherine Steinwachs secured victories in both the 1 and 3 meter," exclaimed Barton. "She has been a key contributor on the boards and a leader for our newer divers."
As for now, the Blue Streaks will begin their offseason, but fans should expect a bright 2022-2023 season for this talented group of young women.