Ribbon cutting ceremony marks final OAC match up for JCU Women's Tennis
John Carroll University Athletics celebrated a momentous project completion on Saturday, April 30 with the ribbon cutting ceremony for the newly renovated Short Family Tennis Courts. 
The $2.1 million renovation features six championship-sized tennis courts, bleachers at each court, 75-foot candle LED lights, a new scoreboard, a storage facility for team equipment and two family sized restrooms.
Thanks to many generous supporters, specifically the Short family, the new facility is able to provide a space for John Carroll to host not only Ohio Athletic Conference Championships but also National Collegiate Athletic Association postseason competitions. 
"We are so grateful for the Short Family and our generous benefactors, especially Dave '81 and Beth Short," said JCU Senior Director of Athletics Michelle Morgan. "We are blessed to have such a wonderful new home for John Carroll Tennis, which has been successful for so many years. The Short Family Tennis Center will be transformative for John Carroll Athletics and our student-athletes."
The ceremony took place before the John Carroll Women's Tennis match against the Ohio Northern University Polar Bears on this momentous day.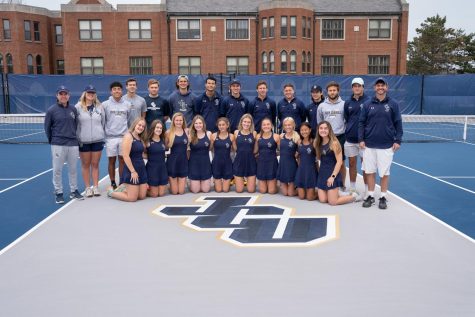 Unfortunately, the Blue Streaks were unable to get momentum going on these new courts as the visitors defeated the Blue and Gold 6-3. 
The score was tied at one apiece after the one and three doubles matches finished up. 
The two doubles battled into a tie breaker match, where Emily Day '22 and Caroline Chandler '25 came out the victors to give John Carroll a one point lead. 
The singles matches are where the Polar Bears excelled as they earned a team point in five of the six singles matches. 
Megan Reese '23 was the lone Blue Streak to win her singles match. 
The Blue and Gold now move into the OAC Tournament as they defeated the Muskingum University Fighting Muskies on Tuesday, May 3 and now move into the semifinals round against Ohio Northern once again. 
The semifinals match up will be in Mason, Ohio at the Lindner Family Tennis Center on Friday, May 6 at 1 p.m.