Ohio holds primary elections
Yesterday, midterm primary elections for both parties were held across the state of Ohio. Everything from the US Senate seat being vacated by Sen. Rob Portman to the governorship to U.S. congressional seats was up for grabs. A notable exception was the State House and State Senate primary elections because the district map was not finalized.
As such, some of the matchups for the November general election are now known. For example, the election to replace Portman will be between Democratic Rep. Tim Ryan and Republican venture capitalist J.D. Vance. Ryan was the consistent frontrunner in the Democratic primary, defeating activist Traci Johnson and former CFPB official Morgan Harper with nearly 70% of the vote. 
In contrast, Vance, most known for his bestselling memoir "Hillbilly Elegy," emerged victorious in a crowded Republican primary, no doubt thanks to an endorsement from former President Donald Trump. He defeated numerous other candidates such as former Ohio Treasurer Josh Mandel (who was widely seen as the frontrunner for most of the election), State Sen. Matt Dolan (whose family is the namesake of Dolan Hall and the Dolan Center for Science and Technology), former Ohio GOP chair Jane Timken and investment banker Mike Gibbons.
Meanwhile, in the gubernatorial primaries, Ohio Governor Mike DeWine (along with Lieutenant Governor Jon Husted) faced opposition from other Republicans due to his COVID-19 policies. In spite of this, he was easily renominated for a second term defeating 2018 U.S. Senate nominee and former Rep. Jim Renacci as well as farmer Joe Blystone. It should be noted that DeWine only received a plurality of the vote meaning a majority of Republicans did not vote to renominate him.
As for the Democrats, the nomination was won quite handily by Nan Whaley, the former mayor of Dayton. Whaley rose to national prominence for advocating for greater gun control in the aftermath of the 2019 Dayton mass shooting. She defeated former Cincinnati mayor John Cranley '96, a John Carroll alumni, with 65% of the vote. She and her running mate, Cuyahoga County Councilwoman Cheryl Stephens, will face DeWine in November.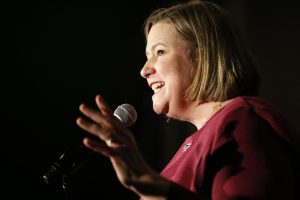 Lastly, in the Democratic primary for Ohio's 11th congressional district (where John Carroll University resides), incumbent Rep. Shontel Brown defeated former State Sen. Nina Turner in a rematch of the August 2021 special election primary. She will face the Republican nominee, former East Cleveland mayor Eric Brewer, in the November election where she is heavily favored.
Seth Unger '01, an Adjunct Professor of Political Science at John Carroll, gave insight on the Republican results. Unger is a veteran Republican operative and volunteered on the Mandel Senate campaign in addition to having worked for his office during his time as State Treasurer.
"Donald Trump's endorsement with just two weeks [left] had an outsized impact in the GOP Senate primary," claimed Unger. "Undecided voters moved to J.D. Vance with enough force to swing the election in his favor."
Concerning the gubernatorial primary, Unger added, "Governor DeWine overcame frustration over COVID lockdowns and ran and won his primary on a long track record of leadership, even in turbulent times. He's likely on a glide path to victory in the general election with bipartisan support in an increasingly red Ohio…"
Max Malley '24, a member of the JCU College Democrats and a volunteer on the Ryan Senate campaign, offered his own analysis of the Democratic primaries. 
"Tim Ryan, the overall favorite to win the nomination, won handily last night," said Malley. "The turnout on the GOP side was much larger than the Democratic side so at first glance it does not look too hopeful for the Dems.
"There could be a lot of reasons for the turnout difference, though," he added. "There was no primary on the Democratic side as competitive as the Senate primary for the GOP. Perhaps many voters chose to cross over and request an 'R' ballot to vote against certain primary candidates."
Malley continued by saying that he has high hopes for Ryan in the fall, especially compared to the Democrat's chances at the governorship. 
"Ryan is very established in [Ohio] politics, has a somewhat national profile, and is running against a Trump candidate (Vance) with a history of inconsistencies," he told The Carroll News. "Whaley, on the other hand, is less established, and running against an incumbent governor in DeWine…"
Lastly, Malley, a Nina Turner supporter, addressed the OH-11 primary. 
"It was predictable to see Brown win again," he stated. "As the incumbent, she came in with so many advantages and new endorsements that would have been near impossible for anyone to overcome. Turner put up a great fight but it was too much to overcome."
The general elections for all the races mentioned will be held on November 8, 2022.