Izac Coleman's team-oriented efforts result in national success
Play physical, act quickly, prioritize on-field intelligence, but most importantly, execute with passion.
This is exactly how Izac Coleman '24 chooses to engage in his devotion to the game of soccer. 
Coleman's undeniable efforts were recognized with the earning of D3soccer.com Third Team All-American Honors. Coleman is the seventh player in John Carroll history to earn the admirable status of All-American, a tribute to his consistent quest for excellence.
On top of his All-American status, Coleman's postseason accolades included Ohio Athletic Conference Defender-of-the-Year, First Team All-OAC and First Team All-Region. 
The talented outside-back earned a starting spot in all 21 matches for the Blue Streaks, many of which he endured the physical demands of a full 90 minutes.
But, for Coleman, it's not always about the individual awards and honors, as he consistently emphasizes how his efforts aren't for his own benefit, but rather for the greater good of the John Carroll soccer community.
"My motivation comes from my friends and family," reflected Coleman. "I see how proud they are of what I accomplish so everything I do is for them." 
If there's one aspect of Coleman's character that separates him from a significant allotment of collegiate athletes, it's his efforts to reach communal success, not just individual spotlight.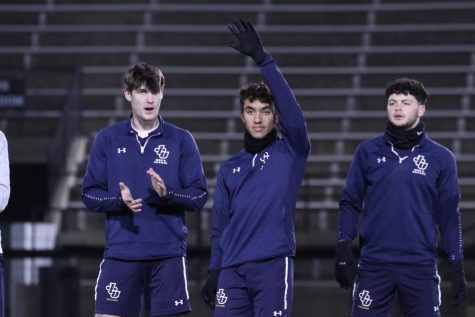 At the beginning of the season, the Blue and Gold were predicted to have another successful campaign. Going into 2022 gameplay, John Carroll was selected to finish first in the OAC Preseason Poll. Additionally, the Blue and Gold were tabbed #16 in the United Soccer Coaches Preseason Rankings.
For Coleman, adhering to the standards of excellence was what mattered most. The publicity is always enjoyable, but Coleman's presence on the field showcased that his passion was focused on the team's success.
"My favorite memory from the season would have to be the OAC championship against Wilmington," started Coleman. "It's always great to win a trophy and it was amazing sharing that with new players."
In essence, when evaluating Coleman's soccer career, his charisma only strengthens the fact that he is a genuine team player.
After the countless hours that Coleman has put toward his love for soccer, his postseason accolades are certainly deserved. 
Moving forward, Coleman is eager to kickoff his final season with John Carroll next year, ultimately creating his own legacy of passion, respect, kindness and effort.