Kozlowski discusses hopes for his JCUSG presidential term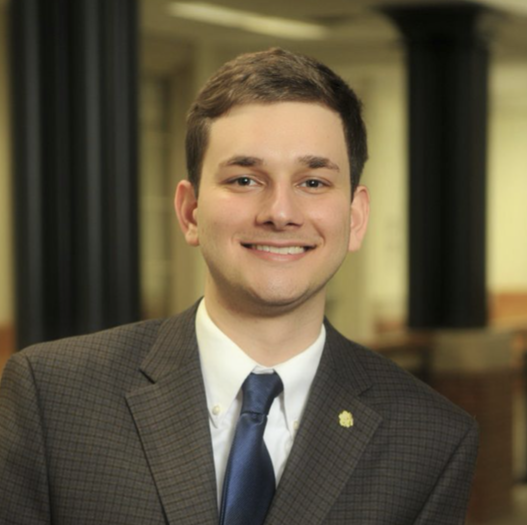 On Jan. 17 at approximately 5 pm, Jacob Kozlowski '24 will be sworn in as the new president of John Carroll's student government. After serving an initial term as Chief of Staff during 2021 and then as the vice president of student government under Grace Kilfoyle '23 in 2022, Kozlowski is entering the role with big plans for the future of John Carroll's community. 
Kozlowski, a political science and economics student, has been a student at JCU since Fall 2020 and a member of student government since Spring 2021. Throughout his tenure, the president-elect has focused on amplifying the voices of students especially regarding administration issues.
"The students on this campus feel unheard, like they don't have a seat at the table, when big decisions are made on this campus," Kozlowski told The Carroll News. "Student Government takes issue with that. And it's something that we want to approach the right way."
Kozlowski has recognized a few areas of improvement on campus that he would like student government to assist with. This includes many hot button topics around JCU such as concerns regarding the classroom environment which are potentially spurred by an exodus of faculty since the large-scale tenure debate in Spring of 2021.
"There are a number of reasons why people come to John Carroll, small class sizes is one of them," Kozlowski elaborated. "It's something that students value and we're looking to protect that. I think it's a perfectly fair area of student life and academic life for us to get feedback on.  The ability to communicate and be known by your professor is something that's valued. There are some courses that have quite a few students in them next semester. That is due to a number of factors [including] staffing. [Some] mechanisms [include] reviewing policies and giving feedback to the powers that be that these are priorities for students."
Kozlowski says that because students are already scheduled for classes next semester, the effects of this legislative push will not be visible at the start of the spring semester. However, it is his goal to highlight these problems within the first few senate meetings of the year. 
The president-elect also discussed how he wants to address the "pattern and culture of sexual violence and sexual misconduct on our campus." This includes potentially collaborating with other departments on campus like JCU Wellness and the Title IX office.
"I think that we cannot fail to meet our moment," Kozlowski elaborated. "We need to have this conversation with the weight and gravity it deserves. We are looking to review policies, make policy recommendations and collaborate with other groups on campus to do programming about this specific topic. The focus is prevention."
"
The students on this campus feel unheard, like they don't have a seat at the table, when big decisions are made on this campus. Student Government takes issue with that. And it's something that we want to approach the right way. "
— Jacob Kozlowski
Additionally, Kozlowski also mentioned his plan to ease the inaccessibility across campus caused by the "building inspired futures" renovations. While he does say that the projects are "not something to be feared," he does understand the frustrations that students have during this trying time. Improving these accommodations will start with a survey sent out by student government at the beginning of the spring semester. 
"We have a clear trend in our survey data that says that students are unhappy," Kozlowski continued. "I think that there's a lot of work to be done in the area of accommodation for the different renovations that are going on on campus."
Inside the organization, Kozlowski is working to remodel the committee system currently in place, looking at a more organized effort with "liaisons" for specific facets of John Carroll like dining, residence life, etc. When asked about a recent critique emailed internally to student government under an anonymous name, Kozlowski said that the constitutional review committee will look at concerns that students have with the document. 
On the recent issue with SAFAC funding, Kozlowski said that he is "100% confident" in Director of Business Affairs Jahiem Peake as he negotiates the policy change with Dean of Students Sherri Crahen. 
Regardless, the president-elect has emphasized that he is open to feedback, stating that he wants to hear the voices of the students and represent them efficiently.
"I think that Grace has led with a consistency and real passion over the last year that has put our organization on track," Kozlowski closed. "We were in a rough place before she started with her leadership. We are in a much better place. I'm looking to continue the great work that we've started over the last year, being a role model for the first year senators who will be president someday."