A biased list of the top five films of 2022
2022 was a spectacular year for film. While blockbuster juggernauts such as Marvel and Disney began to lose steam by releasing movies that are largely considered to be some of their weakest, countless gems came out of nowhere and were instant classics for film fans. From family comedies to psychological horrors, there seemed to be something for everybody. On that note, I have decided to compile the five films from the year that resonated with me the most. Keep in mind that all art is subjective and this list consists of nothing but my incredibly biased opinion.
5: "Weird: The Al Yankovic Story" directed by Eric Appel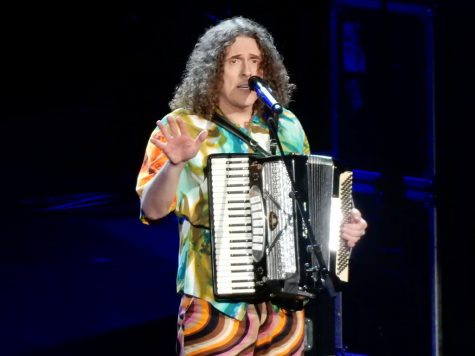 While "Weird" is far from the deepest movie experience of the year, it is one of the most bizarre and probably the funniest. Centering around the king of musical parody, "Weird Al" Yankovic, the movie itself is a parody of musical biopics. In an age where seemingly every musician in history gets their life story retold in a dramatic (and often inaccurate) cinematic form, "Weird" capitalizes on the trend and turns the genre on its head. It tells the life story of Alfred Yankovic but in a way that is almost entirely fictional. From having his song "Eat It" ripped off by Michael Jackson's "Beat It" to his passionate love affair with Madonna and even his war on Mexican drug cartels, this movie is wildly entertaining from beginning to end.
4: "Glass Onion: A Knives Out Mystery" directed by Rian Johnson
A standalone follow-up to Rian Johnson's 2019 film "Knives Out," "Glass Onion" follows the beloved detective Benoit Blanc as he attends a peculiar mystery-themed party hosted by eccentric billionaire Miles Bron set during the height of the COVID-19 pandemic. It includes all of the features that its predecessor did but in a way that does not feel at all derivative. The ensemble cast is wonderfully entertaining and the everchanging mystery is enough to keep anybody on their toes; the comedy is expertly sharp. Even for people who are not typically fans of the murder mystery genre, I highly recommend giving this one a stab.
3: "The Menu" directed by Mark Mylod
This dark comedy thriller takes a critical look at the relationship between artists and their audiences through the lens of a chef who prepares an extravagant meal for a specially selected group of customers. As the film goes on, his menu starts to take peculiar turns and his true intentions become clear. The plot and directing were spectacular, but the highlights for me were the performances. With Anya Taylor-Joy as the protagonist Margot, a reluctant customer at the chef's restaurant and Ralph Fiennes portraying the calculating Chef Slowik, this film, more than anything I have seen recently, proves the potential actors have to take a great film and turn it into something spectacular.

2: "RRR" directed by SS Rajamouli
Made in India and set during the 1920's, the "RRR"  initials stand for "Rise, Roar, Revolt!" which is the perfect three-word summary for the film. It tells a larger-than-life account of the real-life heroics of Komaram Bheem as he battles his people's oppression by the British. Despite its exaggerated Bollywood style, it has a deeply grounded emotional core as it tackles themes of friendship, revolution, family and personal strength. The directing is wonderfully unique, the songs are amazingly catchy and the film overall strikes an acute balance between being fun and being emotional.
1: "Everything Everywhere All at Once" directed by Daniel Kwan and Daniel Scheinert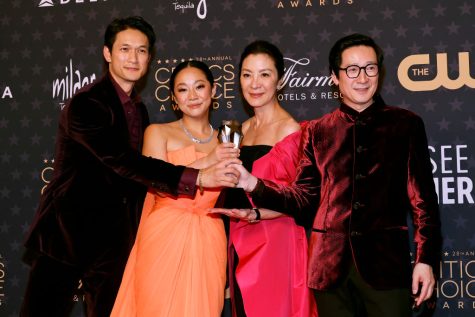 This movie really is everything. A small business owner named Evelyn Wang is down on her luck and struggling with a tax audit when she is unwillingly flung into a bizarre conflict spanning countless alternate universes, each one more surreal than the last. Despite its insane sci-fi premise and incalculable amount of silliness, it still manages to be one of the most emotional films I have ever seen. Confronted by the infinite scope of the multiverse, Evelyn begins to wonder if anything in life truly matters. This ideological conflict, along with many others, is explored so deeply and so intricately that the film has the power to legitimately change the life of a viewer. With a perfect balance of comedy, insanity and raw emotion, this movie has everything, everywhere, all at once.
Honorable Mentions:
"The Batman," directed by Matt Reeves
"Puss in Boots: The Last Wish," directed by Joel Crawford
"Guillermo del Toro's Pinocchio," directed by Guillermo del Toro