Blue Streaks Club Hockey sweeps weekend to showcase prime performance in time for tournament
The sentiment around the John Carroll University American Collegiate Hockey Association DI Club locker room remained positive following a prior weekend of an overtime loss to West Virginia and a heartbreaking defeat to Indiana University of Pennsylvania. 
The Blue Streaks have battled both injuries and tough spells all season long but weathered the storm leading to a big weekend with two road games against conference opponents IUP and Duquesne. 
The Blue and Gold knew they would need to win three of their last four conference games to earn the second seed spot in the College Hockey Mid-America playoffs which provides a pivotal bye in the CHMA Quarterfinal. The bye would reduce the Blue Streaks' most important weekend from three days to two. 
The Friday night contest came against the cream of the crop of the CHMA: IUP. The Crimson Hawks stood 10-0 in conference play and entered their home game against Carroll as the No. 21 ranked team in the country, defeating the Blue and Gold just six days prior to this all so important game.
Nate Cava '23 made some big saves early for John Carroll, but the Crimson Hawks drew first blood on the Blue Streaks and led 1-0 after one period despite the Blue Streaks outshooting their opponent. 
Early into the second frame, the Blue and Gold's dynamic duo of Ethan Miller '24 and Max Richter '23 worked the puck up to the point where defenseman Ryan Young '25 unleashed a shot that tied the game at a goal aside. 
Both teams battled evenly for the following 18 minutes, sending the game into a pivotal third period tied at one. 
Having possibly his best semester as a Blue Streak, Richter found twine on a breakaway early into the third period to give his team a 2-1 lead. 
Despite a stellar performance from Cava, the Hawks were able to score a tying goal with eight minutes left in the game after a beautiful set of moves. 
The Blue Streaks quickly fired back when Tyler Putnam '24 scored his 17th goal of the season courtesy of passes from grad student Max Wopperer and Charlie Tuggey '26. This time, the Blue Streaks would not relinquish their third period lead. 
The Streaks skated strong for the remaining six minutes to grant themselves a massive road win against one of the toughest teams in the country. The Blue and Gold's clutch third period goals provided them with two huge points making up for a home loss to IUP the previous weekend. 
Duquesne has quietly had an outstanding season. The Dukes have brought themselves into CHMA relevancy and skated to a one goal loss on Friday night to Pittsburgh who currently stands as one of the nation's top 10 teams. 
However, a win for John Carroll meant a much higher shot at earning a playoff bye and it was hard to stop the Blue Streaks on this night. 
Wopperer upgraded his playmaking badge with an early feed to Tuggey and Payton Fogarty '25 scored a late first period goal to give JCU a multi-goal lead entering the locker room after one. 
Tristan Weigand's '25 slap shot was knocked home on a rebound by Richter and Wopperer fed Tuggey again to double the lead to four goals. Sam Herr '26 and grad student Carlo Bertoni reprised the goal scoring role for JCU and Henry Cseh '26 tallied his first goal as a Blue Streak. Cava was perfect in net as well with the Blue and Gold creating a seven goal lead.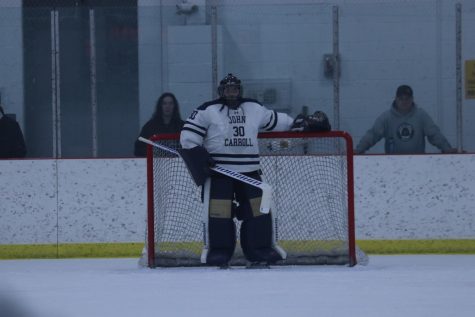 With the game's result without a doubt in favor of John Carroll and Cava needing a rest, the Blue Streaks turned to goaltender Andrew Sahatjian '24 to provide some depth support. Sahatjian stopped every shot that came his way en route to a scoreless third period and a Blue and Gold weekend sweep. 
With two games remaining in conference play, John Carroll needs to win just one of their final two conference games to clinch the second seed spot. A team that has never been for the faint of heart will now battle once again to exceed expectations following injuries. 
The Blue Streaks host Robert Morris on senior night at 8:10 p.m. at Gilmour Academy on Fri., Feb. 10 before heading south to West Virginia for a 9:45 p.m. road contest on Sat., Feb. 11.