JCU Men's Basketball builds on winning record with Senior Day victory
Throughout their 2022-2023 campaign, the 19-2 John Carroll Men's Basketball team continues to showcase a unique form of excellence.
On Sat., Feb. 4, the Blue Streaks hosted the Marietta College Pioneers for a fast-paced, action-packed matchup that kept the crowd on their toes.
After a dominant second half, the Blue and Gold was able to pull away from the Pioneers, finalizing a 89-75 victory. Yet, the sizable victory only came to fruition after a long battle against a stubborn Pioneer squad.
However, before either team took the court, John Carroll honored the successful tenures of both Eric Hanna '23 and William Wallace '23. Both players have remained true to the standard of class and talent that John Carroll Athletics works to maintain.
After the senior leaders received a deserved congratulations, the energy within the Tony DeCarlo Varsity Center became amped.
The Blue Streaks and the Pioneers traded possessions up and down the floor, with seamless transitions throughout the duration of the first half.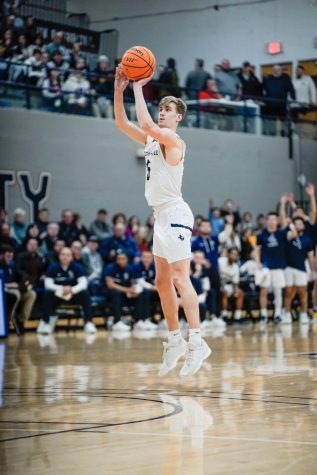 Luke Frazier '25  and Luke Chicone '25 continued to showcase their talents in the first 20 minutes of the game, facilitating and creating a plethora of offensive opportunities for John Carroll. The combination holds a dominant chemistry that ultimately led to a Blue and Gold lead going into the locker room at half.
But, like any other game, John Carroll understands that game strategy has to be built on consistency, composure and a humble mentality. 
Despite a significant amount of skill, the Blue Streaks see major success because of their ability to focus on the fundamentals of basketball: crisp passes, disciplined defense and intelligent on-court vision.
As the second half dwindled, John Carroll continued to keep up the pace of the game but it was clear that the Pioneers were running on fumes. 
At the start of the game, fans saw a close, back-and-forth matchup that previewed what looked to be a close game. Marietta certainly put forth a commendable effort but the second half showcased which squad had the competitive advantage.
Within the final minutes of the game, the Blue and Gold continued to run the court with incredible athleticism and accountability. This mentality resulted in triumph.
Frazier continued his commanding presence, scoring 23 points on the day.
With confidence in what the future holds, John Carroll hosts Otterbein on Wed., Feb. 8 for their last home game of the season. Tip-off is set for 7 p.m.