Loss on Senior Day does not stop spirit of JCU Women's Basketball
The feeling of community reigned supreme within the walls of Tony DeCarlo Varsity Center on Sat., Feb. 4 when the John Carroll Women's Basketball team hosted the Marietta College Pioneers.
For one, the Blue Streaks celebrated the successful careers of Jaylen Hoffman '23 and Kaelyn Underwood '23. The senior duo has contributed a significant amount of leadership and overall talent to John Carroll over the course of their careers. John Carroll also honored the contributions of Christina Passerell, a graduate student.
On the same day, the Blue and Gold welcomed back their team alumni to the home court, honoring their efforts in collaboration with the development of the Women's Basketball Program.
It was an afternoon of excitement and reminiscing for John Carroll. Unfortunately, the rise of motivation wasn't enough to best the Pioneers who brought a dynamic roster to University Heights. John Carroll lost by a score of 66-75.
In the first quarter of play, fans, players and coaches knew this matchup would be decided late in the game. Both squads presented depth that helped maintain the intensity of play that each group's starting five created.
At the end of the first, the score stood at 17-22, Marietta leading by a narrow margin. The Pioneers seemed to have the three-point odds in their favor, but in the second and third quarters, the Blue Streaks came back firing.
Ava Ryncarz '26, a combination guard/forward, was nearly 60% from beyond the three-point arc. Rycarz tallied four three-pointers on the day, all of which helped the Blue Streaks come closer to closing the point deficit.
In the third quarter, Hoffmann used her speed on defense to make offensive facilitation difficult for the Pioneers. 
Hoffmann and her teammates stuck to the fundamentals of defense which ultimately led to a series of shot clock violations on behalf of Marietta. This meant one thing: the ball would be back in the hands of the Blue and Gold.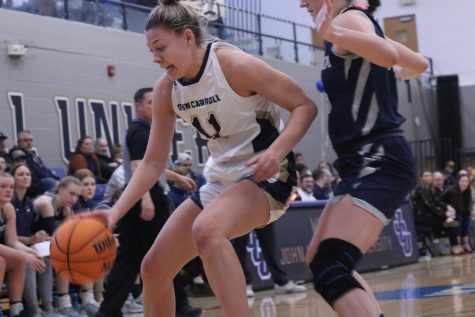 In a rapid fashion, Ryncarz and Maddie Pietrowksi '25 collected a handful of points at the end of the third quarter, giving John Carroll their closest point differential of the game, 58-60.
As the last quarter unfolded, the Blue Streaks continued to fight, but Marietta continued to fire from beyond the arc which made a valiant comeback extremely difficult for John Carroll.
As the final buzzer sounded, the Blue Streaks seemed to be in good spirits despite a true battle that resulted in an unfortunate loss. As always, the Blue and Gold look forward to another opportunity to grow as a unit in their next game.
With a positive outlook, John Carroll will hit the road as they travel to Otterbein on Wed., Feb. 8 for a 7 p.m. tip-off against the Cardinals.