JCU to host The Actors From The London Stage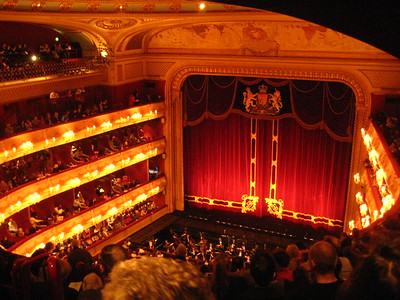 The week of February 13th, John Carroll University will host The Actors From The London Stage. John Carroll most recently hosted The Actors in 2019 where they shined both on-stage with their performances of King Lear and off the stage, visiting classrooms across academic divisions. 
This time around, The Actors will return to both the classroom and the stage, ending their week of residency with three performances of Shakespeare's "Romeo and Juliet" on February 16th, 17th and 18th. Each show will begin at 7:30 pm. Previously, admission has been $5 to John Carroll students and $10 for general admission. For each of the three performances on campus, admission will be free to JCU students. 
In an interview with The Carroll News, Dr. Feerick from the English department spoke about the far-reaching value offered by The Actors. "They do a lot that would be valuable for public speaking, marketing as well as self-presentation," Dr. Feerick said. "They come into a class and they shake things up immediately."
Though it is among their specialties, The Actors have more to offer than expertise on knowledge and performance of Shakespeare. On their agenda are classes from the following departments: Communications, PJHR, Data Science, Education, History, Supply Chain Management and, of course, English. Across multiple departments, one member for The Actors will visit classes from Environmental Literature, to Shakespeare, to a seminar on Spenser and Milton.
As Jess DiSalvatore noted in her article for this publication in 2019, the beauty of the lineup is in its simplicity; The Actors From The London Stage consist of five actors with minimal props, each performer portraying multiple characters. "It's a particularly unique form of theater that is amazing to behold," according to Dr. Feerick. "Once they come out there as a different character, you don't even remember them as their last character."
With support from the Hopkins fund established by Barbara Schubert '62 intended to maximize the awareness and appreciation of British literature, the English department is eager for The Actors to arrive. The English department remains grateful for the generosity of the Schubert family and for the opportunity to expose JCU's campus to British literature. 
When asked what she was looking forward to, Dr. Feerick exclaimed, "I'm looking forward to having a community-based, exhilarating engagement between The Actors and students in the classroom and on the stage." 
The Actors have previously visited campus in 2005, 2006, 2008, 2016, 2019, 2021 (remotely) and now in 2023. Shakespeare fans, business majors and STEM scholars alike can find value from the insight and experience of The Actors in their upcoming visit.