Blue Streak Club Hockey sweeps Canisius in double-header weekend as sight sets on CHMA tournament run
Feb. 24 – 26 has been marked on the calendar, highlighted, circled and underlined for the Blue Streak Club Hockey program since a loss at nationals ended their 2021-2022 campaign last year. Finally, the weekend of the College Hockey Mid-America Tournament is here and the Blue and Gold have a chance to win consecutive conference titles and return to the American Collegiate Hockey Association National Tournament. 
The Blue Streaks' tuneup non-conference games last weekend featured an elaborate surprise as Scott Shantery's team participated in the first outdoor game in program history.
On Fri., Feb. 17, John Carroll made home to a new venue as they hosted the Canisius Golden Griffins at FirstEnergy Stadium. The typical home jerseys and smaller crowds were traded for baby blue alternate jerseys, eye black and a record crowd on the season. 
"It was the opportunity of a lifetime," said Max Richter '23. "As my career comes to an end, it was nice to experience some of these things and cherish the opportunity and relive the feeling of playing outdoors like when I was growing up."
Looking to play spoiler, the Golden Griffins tallied two goals in the first period despite a number of Blue and Gold man advantages. A Blue Streak that has been relied upon all year to generate offense, Payton Fogarty '25, drew blood for the baby blue clad on a well screened shot from the point to cut the deficit in half.  
Canisius began the second period by scoring once again, before John Carroll called No. 13's number. Charlie Tuggey '26 took back the contest by storm as he scored consecutive goals to bring the fervent and freezing FirstEnergy crowd to their feet. Tuggey's second goal featured a highlight move as he danced past a defender and buried the puck over the goalie's shoulder. 
"It was an unbelievable experience." said Tuggey. "I'm glad I could tuck two [goals] and help contribute to a win on such a special night."
As Scott Shantery had planned, Alex Smat '23 played the second half of the game at the cavernous venue and relieved Nate Cava '23. Cava made some strong saves to keep the Blue and Gold in the game but some funky bounces from the new rink contributed to the tied game. 
Tyler Putnam '24 scored his team-leading 19th goal of the season when he capitalized on a bounce off the boards which sent the Blue Streaks to their makeshift locker room leading 4-3. 
"Playing outdoors was an experience I'll never forget," said Putnam. "It was one of the most fun games I've played in and I was lucky enough to get a rebound goal off the glass. Scoring in a football stadium will go down as one of my favorite goals I've scored." 
Smat's lone blemish on the night was a tough shot that deflected off of his stick and left the game tied 4-4. John Carroll responded back by strong play, dominating most of the third period. 
Defenseman Carlo Bertoni (graduate student) found Ethan Miller '24 on a pass directed behind the net. Miller's quick thinking found his captain, Max Wopperer (graduate student), open in the slot. Wopperer has always had a knack for scoring big goals and on this night he was no different. Wopperer slammed a no-doubter into the net and lifted his arms like he was the Gladiator. "Wopps" was pummeled by his teammates as he scored what would end up being the game winning goal.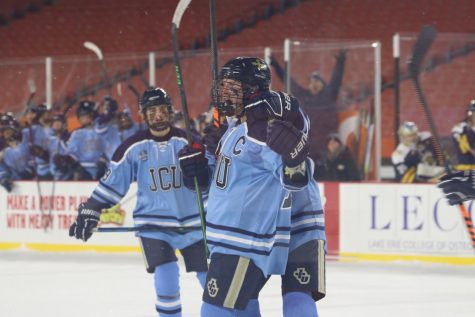 The Blue Streaks held on with some big late saves by Smat and a nice blocked shot by Adam Unruh '24. Wopperer's late heroics were not new to Blue and Gold fans, but the graduate student's goal was the storybook ending on a perfect night.
"The whole experience was phenom(enal)," said Wopperer. "Rivaling the top moments in my dwindling hockey career that was topped off after scoring the game winning goal in that perfect setting, I'll cherish that moment forever."
John Carroll's back half of the weekend double header was headlined by the first career start of freshman netminder Jack Zuchlewski. On a night where little went wrong for the Streaks, Zuchlewski shined in net, stopping all 32 shots he faced.
Spoiler alert, the Blue Streaks buzzed on Sat., Feb. 18 this time in Buffalo, N.Y. 
Sam Herr '26 put the Blue Streaks on the board first in a first period which was highlighted by the Carroll team finding out they secured a bye from the first round of the CHMA Tournament.
Two of the Blue Streaks best defensive forwards, Unruh and Sean Deakin '25, found twine in the second period, while Richter and Tuggey completed the dominant performance with goals of their own.
"It felt nice to score in front of my family in a rink that I played all my youth hockey in," said Richter. 
The Streaks now gear up for a playoff run, as the conference tournament begins Fri., Feb. 24 and runs through Sun., Feb. 26. JCU earned a bye from the quarter finals but will face a team determined for them by the No. 1 seed, IUP, on Sat., Feb. 25 at either 2:30 p.m. or 5:30 p.m.