Keeping up with Kincaid: Who is Milo?
As mentioned in my previous edition of "Keeping up with Kincaid," one of my goals for this new year is to tackle the rather difficult task of writing more for writing's sake. For someone who constantly tries to impose some metaphorical meaning in every biweekly column that I curate, it has been a little challenging. 
No, I have not picked up my journal again and I am still churning out articles for various sections across the paper just like normal. Everything I am drafting for both publication and for grades online is still polished with the same fervor as before. I hate to break it to you, but if you expected a drastic change overnight in my writing style, I am sorry to say it is going to take a bit more time.
Albeit, consider this one of my first attempts at using some less whimsical words that serve the purpose of errant joy rather than resume bolstering. While I do not think a piece on something that brings me fleeting joy can be used to get me a job as a respected journalist, it will give me the twinge of happiness and a sense of accomplishment that I need. 
With that being said, I would like to take the next few hundred words to discuss one of the lights in my life. So, dear reader, please meet Milo.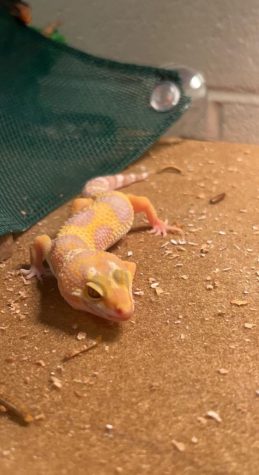 This fancy leopard gecko is something I hold extremely close to my heart. Like anyone can say with any pet, she is my confidant and a source of pride in my day to day life. 
I originally adopted Milo in August 2022 after my previous pet passed unexpectedly in June. I was going through multiple changes in my life; not only was my junior year of college starting in just a week, but I was still adjusting to time outside of the nine-to-five work week. I also faced a relatively scary experience regarding a close friend that I will neither forget or elaborate on further in this article. Frankly, I needed something that relied on me so that I felt a sense of responsibility to stay calm and not be taken under a riptide of stress. Luckily, Milo did just that.
When Campus Editor Grace Sherban and I first went to PetSmart to find a new reptile, I was immediately drawn to the lizard section (mostly because I was already well versed in the care they required). There was only one fancy leopard gecko left and she was, as noted in the photo above, absolutely stunning. I first noticed the coloration of her scales and also how her pupils quickly reacted to light much like Toothless in "How to Train Your Dragon." The deal was made sweeter when the handler pulled her out saying "she does not like men" leading her to immediately scream (as geckos do) with annoyance upon touching his palm. Needles to say, I fell in love and adopted Milo that day. 
The first few weeks with Milo were a little tough. When temperamental geckos are moved to new habitats, they tend to stop eating from stress and out of protest. I knew this would happen especially with how she reacted to the handler removing her from her initial cage. While I was discouraged at first, she eventually began to eat when I hand fed her some worms twice a day. Now, she is fully over her aversion to sustenance and will eat pretty much anything. 
Once she became comfortable in Millor 210, I noticed that Milo has a distinct personality like any dog, cat or even person does. She moves very quickly and chases anything that moves. She also will watch me as I do homework and follow my pen with her eyes if I take notes beside her tank. She also either loves or is morbidly fascinated by the sound of the microwave. She is also fearless as I have constantly watched her try and scale the various enrichment pieces that I placed inside her habitat. If she falls, she quickly tries again without any hindrance.
These little habits and her presence overall make Milo a staple part of who I am. If I am ever having an unsavory day, I know I can always go to my dorm room and see a little creature that loves me dearly. I remember seeing cheesy quotes on Instagram that say something to the effect of "to the world you may be just one person, but to your pet you are the whole world" and that fills me with a lot of joy. 
While Milo may not know much outside of her JCU life, she has changed me in many ways. She keeps me responsible for someone or something besides myself. She gives me little hints of laughter throughout the day. All in all, she makes me a better version of myself. Her love, whether it is from a cold-blooded heart or not, helps me find solace in things like this writing experience. After all, even if this piece bombs because it is not my usual hard hitting work, Milo will still need feeding and will still adore me at the end of the day no matter how this story is received.