JCU Sports Leadership Program develops great minds for successful futures
John Carroll University is well known for its connections to the professional sports world, but there are often some common misconceptions about the sports programs offered to undergraduates on campus. Not many know that, while a Blue Streak, students have the opportunity to earn their Bachelor of Arts degree in Sports Leadership. 
What was originally named the Sports Studies Program was started seven years ago and recently rebranded itself with the name Sports Leadership in order to give more clarity into the meaning of the program. 
"The Sports Leadership major has a multitude of different career paths," explained Dr. Brooke Turner, Director of Sports Leadership Masters Program and Assistant Professor of the Sports Leadership Undergraduate Program. "From Sports Marketing, Sports Administration (Front Office of a major/minor league team, Director of Athletics, Sports Information, etc.) to coaching at various levels of sport.
"The Mike Cleary Program in Sports Leadership was established through the generosity of Mr. Cleary, a 1956 graduate of John Carroll University. He was emeritus executive director of the National Association of Collegiate Directors of Athletics. Cleary held the job of executive director from the association's founding in 1965 through 2011. He served in the position longer than any other current Division I conference commissioner, coaching organization executive director, or national association leader."
The mission of the program is not only based on the typical Jesuit ideals, but also focuses on the various soft and hard skills to be successful while working in sports. 
"The Exercise Science and Sport Studies Program is grounded in a vision and mission of leadership and service to others that is organized around and implemented through, knowledge of the science of human movement and human behavior, relevant skills and application experiences, and evidence of dispositions for careers in professions dedicated to the science of human movement, the study of human behavior, and the respect for the dignity of the human person."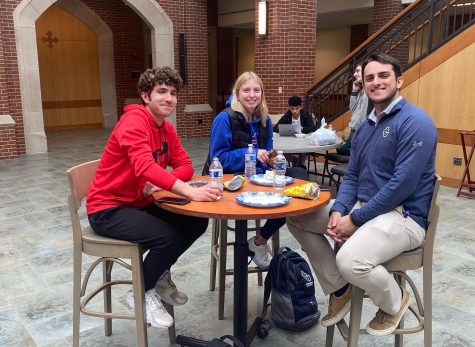 Students have the option of routes of study within the Sports Leadership program as they can select the Sports and Athletic Administration track or the Coaching and Personnel Development track. 
"One common misperception is that our major is related to the sciences," said Turner. "Sports Leadership spans all areas of sport and can really be tailored to be whatever path our students are interested in. Our students learn the foundation and current issues in the many different areas of the world of sport. This knowledge, coupled with the many opportunities of volunteering, shadowing and internships really prepares our students to make an immediate impact in the world of sport." 
"In this undergraduate program there is a focus of studying sport from a 10,000 foot view with the intent to understand sport as a business product and how that product is developed, administered, and presented with the goal of creating as many participants as possible," furthered Bryan Beige, Practicum and Internship Coordinator for the Exercise Science and Sports Leadership programs. "This can range from careers in coaching and personnel development from the high school to professional level. This can include administration careers for youth, community, interscholastic, and intercollegiate athletic departments. And this can also include increasing participants from the business and selling industry such as creating first class fan experience and top notch event management as well as increasing sport sponsorships in connecting athletes, programs, and teams to business entities."
John Carroll also started a Sports Leadership Masters program this past fall where students have the opportunity to continue to develop their skills, increase their knowledge and network further with the online program. 
"This intensive, fully online degree program is designed specifically for sports industry professionals. As a graduate student, you will have opportunities for hands-on experience through project-based work, internships and other practical training. You will gain the knowledge and skills to become an effective leader with the knowledge and perspective of today's sports landscape. The program offers opportunities to gain experience working with faculty members and industry leaders to build your base of skills and experience and expand your professional network."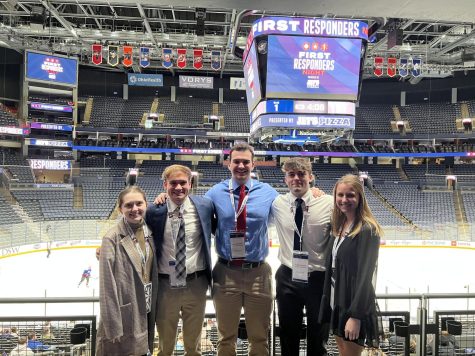 One of the best parts of the Sports Leadership programs is the connections and opportunities students receive throughout their time at John Carroll. Students will often work with the Sports Information Department or Athletics Department or Athletic Training Department while on campus. 
"I love how involved our students are," continued Turner. "As a JCU Assistant Volleyball coach, I love going to matches and seeing Sports Leadership students taking pictures, working the video cameras, announcing, working the scores table, etc. Our worlds collide in many ways and I think it results in great relationships both with students in the Sports Leadership major and the relationship I get to develop with our students."
With the skills learned in classes such as Sports Governance, Research Methods, Organization and Administration, Areas and Facilities, Internship and Seminar, Qualities and Characteristics of Leadership and Coaching and so much more, students are able to get a well diverse background before entering a full time job.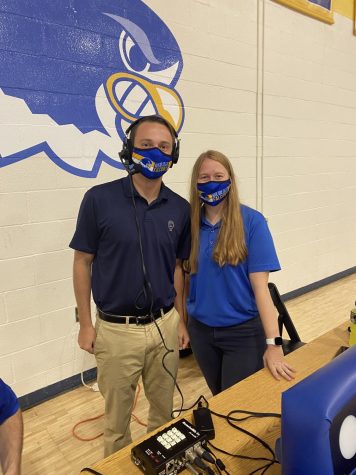 Notable alumni from the Sports Leadership program are: 
Courtney Fallon, Cleveland Guardians

Mike Andlebrandt, Cleveland Guardians

Dominic Mittiga, JCU Basketball GA, Greater Cleveland Sports Commission, Cleveland Guardians

Reilly Haas, Greater Cleveland Sports Commission

Jessica Cook, Pittsburgh Pirates, UPMC Healthcare Administration

Quinn Sobieszczanski, Cleveland Cavaliers

Sean Flannery, GA Xavier University Men's Basketball

Keyshawn Colman, University of Dayton Football Coach

Emily Schwabenbauer, Notre Dame College Athletic Administration

Jacob Betz, Sponsor United

Thomas Strasshofer, Notre Dame College Sports Information Director
"Sports play a vital and growing role in our society and world – from business to education to health and wellness. The Mike Cleary Program in Sports Leadership helps you develop the knowledge, skills, and dispositions needed to become a leader in a sports-related career of your choice. Graduates of our program will be mindful that sports and sport-related professions encompass all ages and all lifestyles, including the elite athlete, and will be prepared to work with, and for, diverse populations."
For any questions related to the program please contact [email protected].