Women's Soccer Goalkeepers splitting half of games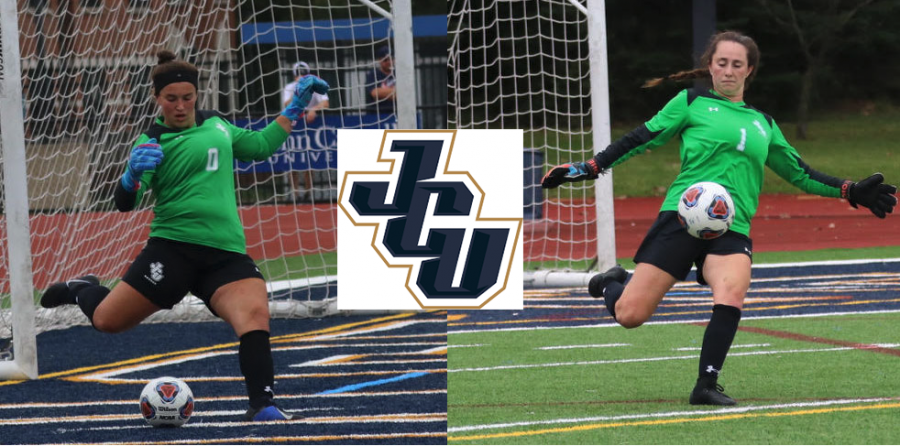 Just four games into the 2019 season, the John Carroll University women's soccer team made a switch.
Starting goalkeeper sophomore Danielle DelDiudice was replaced by freshman Mackenzie Stease. So far, in her first-year campaign, Stease has helped the Blue and Gold compile a 3-2-1 record.
"With Mackenzie coming in, we knew she was going to be someone that would push Dani, as well as step in for her if needed," head coach Michael Marich told The Carroll News. "We wanted to be able to get an opportunity to see how Mack would respond during a true game. 
"With having an opportunity to see her in non-conference games before, it gave us a better picture to see what was going to happen. She trained hard and earned the opportunity. That is why we did it. To see where things are at."
Like any freshman, Stease has undergone typical growing pains. She has registered 21 saves but allowed five goals. Those growing pains were evident in this past week's outing.
At halftime of Sunday, Sept. 29's game against Case Western, another switch was made — back to DelDiudice. Stease had made four saves but allowed two goals against a stealthy Spartans offensive attack.
"Like any other position, freshmen are going to have some growing pains to get up to the pace of the game and everything like that," said Marich. "And obviously, no one plays a great game. And sometimes for a goalkeeper to make a mistake, it gets a little bit more amplified."
DelDiudice, who started all 19 matches as a freshman and finished with the third-most saves in the OAC that season, made five saves and allowed just one goal in the second half.
Typically, it is not unheard of to have one goalkeeper as the "go-to" and reliable hand. But Marcich likes that he has two players he can count on.
"It is always harder for the goalkeeper, being such a specific position," he explained.  "You are only playing with one on the field. It is hard to move them around the field to get everyone opportunities.
"Both of them have been great in training, pushing each other. Taking reps and alternating things in training. They have been great supporting each other and know that there is only one of them on the field."