JCU Softball continues to push success as they turn to OAC competition
Home field advantage is something many teams look for in maintaining a sense of familiarity and comfort. But, for the John Carroll Softball team, the home-opener wasn't exactly within the boundaries of University Heights, OH. 
Instead, the Blue Streaks hosted Kenyon at Case Western Reserve University on Sun., Mar. 26 due to unplayable field conditions at John Carroll. 
Despite the weather, the Blue and Gold grabbed two victories in their double header against the Owls. The first game ended in a score of 3-2 while the second matchup ended with a tally of 6-3.
In the initial game, Daniel Orendi '24 stood strong as pitcher, earning three strikeouts leading to John Carroll's victory.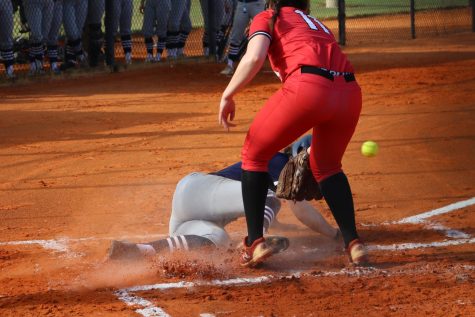 In terms of scoring, Gracie Bressoud '23, Alyssia Carmichael '24, and Kaylyn Odelli '25 contributed to the three runs that John Carroll earned.
All scoring plays were a representation of the Blue Streaks' ability to recognize opportunity on the field. 
Odelli stole second base while Carmichael was simultaneously able to steal home. Later scores were the result of a Gabby Hougan '24 RBI. 
The second game followed a similar trajectory, just with more offensive push from both squads. John Carroll took the second game with six runs to Kenyon's three.
Brianna Callow '25 led the team at the mound with four strikeouts in five innings. Orendi revisited the pitcher position for two innings, earning three strikeouts. 
The Owls found it difficult to compete with the dynamic line of pitches that a crew of Blue Streaks tossed toward them.
When John Carroll was at bat, the offensive machine solidified as the game ensued. Carmichael, Odelli, Mackenzie Stease '23, Jess Lichota '24 and Kendall Trunzo '25 tallied runs for the Blue Streaks.
With a plethora of scores to increase the deficit against Kenyon, John Carroll was able to lock in for a decently sized victory.
The pair of wins puts the Blue Streaks at an overall record of 10-4, with a win streak of three. John Carroll has not seen an Ohio Athletic Conference opponent so far, but it is clear that early competition shows the Blue Streaks as a serious contender.
OAC play opens up this coming weekend, with the Blue and Gold traveling to Muskingum for an afternoon double-header. The first game of the series is set for 1:00 p.m., the second game is penciled in for 3:00 p.m. in New Concord, OH.