Humans of JCU: Tim Misny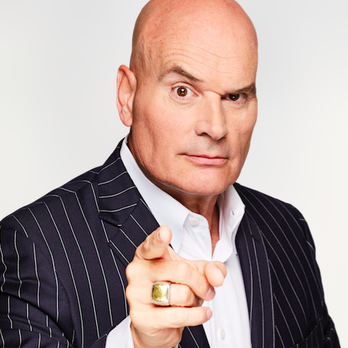 John Carroll University has hosted multiple famous alumni over its nearly 150 year tenure. These names include Don Shula, the famous NFL coach of the Miami Dolphins who holds the record for the most wins by an NFL head coach with 347 career victories as well as Tim Russert, the longest serving moderator of NBC's "Meet the Press." However, none of these figures have their eyebrows plastered on billboards around Northeast Ohio, all with the notion that they will make someone pay. That title belongs to JCU Class of 1977 graduate Tim Misny.
If you've ever been injured in an accident or suffered from someone else's negligence, you know that the road to recovery can be long and difficult. But with Misny on your side, you can rest assured that you'll get the justice you deserve. Misny has brought his winning attitude and legal prowess to the courtroom, earning him a reputation as one of the best personal injury lawyers in the business.
However, Misny was not always a household name earning both happy clients and PR fans alike. Instead, he started as an undergraduate student at John Carroll studying political science and government, history, English as well as speech. As a student, Misny kept busy both upholding a prestigiously high grade point average and working consistently. One of these positions was as a full time writer with a national newspaper chain.
"I worked full time during my undergraduate work as a general assignment reporter for The Sun Newspaper," Misny told The Carroll News. "The Sun Newspaper was the largest weekly newspaper chain in the United States and my job was to be a general assignment reporter and I would fill in for people who took vacations. It was a great job because, in the morning, I could be interviewing a mayor of a city about a garbage strike. And at night, I'd be covering a high school basketball game."
Misny states that this spirit of hard work helped him pay for tuition and pushed him through college. He originally adopted this perseverance at a young age because of his humble roots in Euclid, Ohio where he grew up in a "one bedroom bungalow" with his father working multiple jobs. When he told his father that he wanted to attend St. Joe's High School, a private institution known for its successful graduation and literacy rates, he was told that he would have to pave his own way using his own finances.
"I got a job at the golf course for 50 cents an hour," Misny elaborated. "My job was to clean garbage cans and toilets because I was the low man on the totem pole. I worked my ass off because, the harder you work, the more hours you get. One Saturday, I'm 12 years old and I work 10 hours. I came home with five bucks in my pocket. I was walking around the neighborhood and I pulled five bucks in my pocket. That gave me the mindset to work hard. It showed me at an early age that if you want something, you go get it."
Along with this strong willed mentality, Misny also learned another important lesson during his undergraduate career: how to tell a story. Not only was this instilled through his work at The Sun, but also through his relationship with past John Carroll public affairs aficionado Father Paul Woelfl.
"The most important thing that happened to me in my lifetime was meeting Father Paul Woelfl," Misny stated. "Father Paul Woelfl was truly the epitome of what a Jesuit should be. He was a scholar, he was an intellectual, he was compassionate, he was hardworking and he was a spartan in the way he conducted his life. The man was an inspiration to me."
Misny established that Woelfl was one of the main people that helped him find a path to law school at the Cleveland-Marshall College of Law. However, growing up, Misny told The Carroll News that he always had aspirations to help others in this manner.
"I knew when I was eight years old that I was going to be a personal injury lawyer," Misny elaborated. "My grandmother took me by the hand [in Tower City] and she pointed up to the magnificent gold concourse ceiling. She said, Timo, you see this place? She said 'your grandfather helped build this place.' I said, 'Grandma, who lives here?' She said, 'no, sweetheart, no one lives here. Lawyers have offices here. And if you study real hard and work real hard, someday, you'll have an office here too because there will always be people that need you.' At eight years old, I knew that I was going to be a lawyer, representing folks who had problems."
Inspired by his past and under the guidance of Father Woelfl, Misny continued to keep his nose to the grindstone to ensure that he would get into law school. At the time, law schools only offered nine seats so the positions were highly competitive. Foundational skills he established through his coursework and employment include the ability to multitask and time management.
"What I like to say is hard work beats talent that doesn't work hard," Misny continued. "The reason why I have had the success I've had in the practice is because my days at John Carroll taught me to outwork my competition. I have found that sometimes folks find hard work as a daunting prospect and they should be excited by it. They should be challenged by it."
Under the guidance of Father Woelfl and through the various lessons he learned both inside and outside the classroom during his formative years, Misny was led by the familiar doctrine of helping others, the same message that he was told as a child. This compassion eventually spilled over into his public persona and crafted the famous phrase encapsulated in a myriad of television ads and highway billboards.
"A woman called me up and she said that she's five months pregnant and she was having severe abdominal pain," Misny started. "She called the doctor repeatedly and the doctor told her 'don't worry about it.' She goes, 'no, this is something different. I'm telling you.' Well, there was an infection and the infection spread to her uterus and it killed the unborn baby. She called and told me that if they had just listened to me, my baby would still be around, he'd be alive.
"So after I talked with her and signed her up, I went to the studios where I filmed my commercials. I said, 'we have a new commercial.' They said, 'Is there a script?' I said, 'no, I don't need a script, just start filming.' And I looked into the camera and I said, 'I can't tell you how many times in my career clients have called and told me that because a healthcare professional just wouldn't listen, they suffered unnecessarily. Believe me, when I tell you, I'll listen. And then I'll make them pay.'"
Despite this fast paced lifestyle, Misny again looks back to his time with Father Woelfl to find peace amidst the stress.
"He was the most unassuming, peaceful man that I've ever had the privilege of knowing in my life," Misny stated. "Knowing the man would just be an amazing thing and I'm blessed and privileged to be one of the few people that I think knew him very well. I think I'm a much better person for having had that experience. Every year, I would send him a Father's Day card and he said he's never gotten a Father's Day card in his life. I said, 'well, you're my Padre.'"
Throughout his years in the surrounding Cleveland area, Misny elaborated that he attributes many of his successes to his time at JCU and hopes that current students also take advantage of the opportunity they are presented with, even if their collegiate years do not seem formative at the time.
"Right now, you have no idea how lucky you are to be at John Carroll, you will realize it over time," Misny concluded. "I'm here to tell you, appreciate it, enjoy it, relish it. More importantly, make a point of giving thanks and expressing your gratitude to anyone who has helped you get to John Carroll. It's such a unique place that I think I would be hard pressed to find another setting that offers what John Carroll offers in a holistic way, all the way around in a complete picture."