JCU Track & Field prepares for OAC Championships with Walsh Invitational last weekend
It was a weekend of small victories for John Carroll Track and Field which acts as a perfect segway into next weekend's Ohio Athletic Conference Championships. 
Men's Track and Field
A handful of Blue Streaks made the brief jaunt to Walsh University starting on Thurs., April 27. 
Corey Minton (graduate student) finished second in the long jump with 6.42m of soaring. Jimmy Kartsonas '24 followed close on Minton's heels with a 6.25m jump.
The distance squad also made some noise with Joe Backus '23 earning a sixth place finish in the 1500m race. The group of sprinters at Walsh were impressed with Cam Klauke's '23 performance as he grabbed a first place victory in the 400m with a time of 49.69.
The sprinters continued their dominance in all capacities with a third place finish in the 400m hurdles from Victor Ononogbo '25.
As the night began to wind down at Walsh, a handful of Blue Streaks geared up for their claim to fame the following day.
This time it was Garrett Clark (graduate student), Caleb Correia '24, Basheer Alramahi '26 and Tyler Gast '24 who earned a third place finish at the Penn Relays amongst talented Division I and Division II competitors. 
Women's Track and Field
The majority of John Carroll Women's Track and Field also made the trip to Walsh for some final tune-up opportunities prior to OAC Championships.
The team of John Carroll jumpers earned some noticeable victories amongst some tough competition. Tori Miller '24 earned a first place finish in the triple jump with a distant hop of 10.77m. Sarah Saad '26 came in second with a jump of 9.63m.
Kelsey Dunn '23 refined her skill in the discus, earning a crucial second place spot with a toss of 44.58m.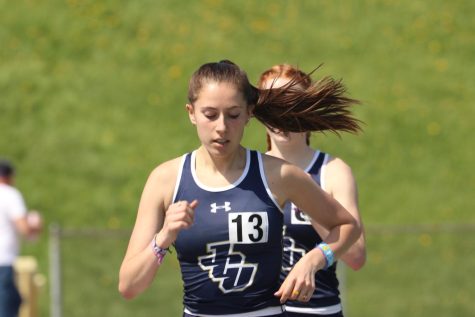 On the running side of things, the 1500m featured some top-ten finishes from Morgan Edwards '25, Annie Higgins '24 and Amanda Keim '24. As for sprinting events, Taylor Anthony '23 earned a fourth place finish in the 100m, followed by a sixth place clock-in for Rosie Murray '26. Murray continued her initial success with a third place finish in the 400m hurdles. 
The main event was the return of Sydney Jenko '23, who soared in the 5000m with an impressive comeback time of 18:19.85. 
Both squads are eager to showcase their skills in OAC Championships, starting on Thurs., May 4 in Alliance, OH.