2023 marks the third year that I've made my annual trip down to Thornville, OH for my favorite music festival, Lost Lands. When I first attended and covered the festival in 2021, I was blown away by its sheer size and the amazing production quality by Excision and his team — it was the perfect experience for my first EDM festival. Since then, I've found myself waiting for tickets to drop and for Excision to reveal an ever-changing lineup. 
But, this year was different for a lot of reasons.
Attendees have previously expressed their issues with the long wait to cross the road from the campgrounds to the festival, often being around 10-15 minutes with an even shorter window to cross. The wait would be complemented by an even longer time to get past security and into the festival grounds.
Lost Lands handled the issue of lines by eliminating wait times to get into the festival. The additions of both a temporary bridge over the road and an advanced walkthrough security system made the wait times nonexistent. My group never had any issues getting in or out of the festival, saving us precious time previously lost to sluggish lines.
In keeping with the theme of saving time, this year's Lost Lands saw the most back-to-back sets in its history, saving attendees the pain of having to miss out on certain artists by doubling them up.
Some of these back-to-backs were brand new, such as Layz B2B Jessica Audifred and even included a triple back-to-back of Boogie T with Dirt Monkey and Jantsen. Excision even presented two of his own, one with Dion Timmer and the other with Liquid Stranger. Many of the artists have displayed incredible growth through the years and seeing that many of them would DJ with one another made me even more excited to attend this year's festival.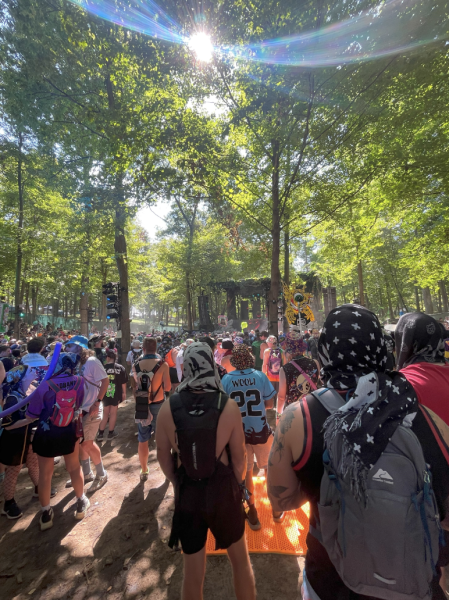 Lost Lands 2023 was not afraid to diversify its normally bass music oriented lineup with sub genres of drum and bass, hardstyle and house music. 
While drum and bass was the most prominent of these three with artists such as Ivy Lab, NetSky and Reaper, hardstyle, categorized by its intense speed and volume, has seen a slow emergence through performers like Lil Texas, Yosuf and Dionysius, introducing headbangers to an even more aggressive style of music. The booking of Acraze alongside house sets by Layz and Wooli as their respective Sabritaz and Stumpi aliases was another pleasant surprise for crowds who weren't expecting to get a taste of house music at a dubstep festival.
Local artist representation was also improved at Lost Lands with the brand new silent disco located near the campgrounds. 
To give attendees a way to party late into the night without annoying neighbors, Lost Lands added a silent disco that allows headbangers to continue their raving without worrying about noise. All day and throughout the night, up to three Ohioan DJs played at once at the silent disco stage, with attendees being able to switch through different channels to hear their desired music. 
But Lost Land's most coveted new addition is none other than the secret stage. 
Rumors of an outdoor secret stage were running rampant at the festival, with hints towards a password required for entry and headliners playing at a stage so up close and personal it could be described as a celebrity after party. Artists like Sullivan King, Wooli and Excision himself made appearances, playing exclusively for audiences who sacrificed other late night sets to go inside the secret stage.
Since I focused on changing up my Lost Lands routine by going to artist meet and greets and different sets than usual, I decided to risk it all and try for the secret stage dubbed by other attendees as "The Red Room." 
The stage was as legendary as it was rumored to be, with a private bar, limited capacity with tons of space to move around and artist after artist entering to play with crowds peering over the fence trying to see what was going on. Artists such as Ghastly, ATliens, YOOKiE, Sippy and many more played one after the other while having a blast with the lucky attendees who made it in. 
Lost Lands delivered on every promise it made prior to its arrival with major improvements around the board. I'm excited to see what they bring in their 2024 edition and can safely say this isn't an experience you should pass up on. Take a trip down to the land of dinosaurs next year and see for yourself how special Lost Lands can be.