"Feet of Clay" Earl Sweatshirt's personal apocalypse
Earl Sweatshirt, born Thebe Neruda Kgositsile, dives deep into the murky New York production style he adopted in "I Don't like Sh*t I Don't Go Ouside" with the new EP "Feet of Clay." Sweatshirt follows up the critically acclaimed "Some Rap Songs" with a far darker soundscape and focused bars on "Feet of Clay." With this new EP, Sweatshirt dons the role of prophet, a role that the insular and the mormetic rapper wears well.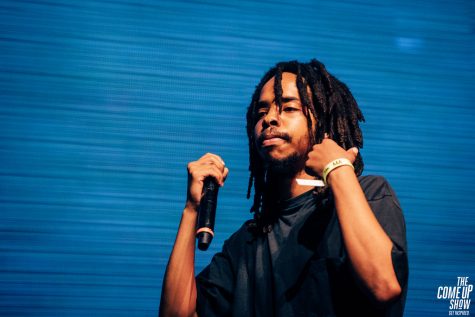 As he stated on Twitter, "'Feet of Clay' is a collection of observations and feelings recorded during the death throes of a crumbling empire." Sweatshirt reconciles his personal identity with that of his rap persona for the 15-minute runtime of "Feet of Clay." While his blunted bars tackle his own identity, Sweatshirt's sharp observations spread the heat to the thicker parts of his audience's ideals.  
The moody jazz tones of the lead track "74" act as the dark thesis of Sweatshirt's vision and a chest thumping battlecry. This track sees Sweatshirt at his most straightforward, shouting down from the struggles he's overcome and remarking on social attitudes. For Sweatshirt, the mud bricks of the kingdom's clay feet are crumbling. The LA native lyrically jokes about the social noise of talking heads and social media, all while flexing his personal and spiritual growth. This growth includes paranoia, fear and loss that comes with the personal inventory at the center of tracks like "OD."
The EP's single "East" reintroduces us to the off-kilter humor of Sweatshirt's previous albums. He jabs at his detractors, comparing their mothers to James Harden. However, his breathless verses become more laborious as Sweatshirt's train of thought leads him to the death of his father. The verse becomes a kind of argument between Sweatshirt and himself over his own identity. 
"Feet of Clay" seems to be the last stepping stone for Earl Sweatshirt before a deep plunge into the unknown. Sweatshirt, after losing friends, family and living in a country with an uncertain future, seems to prepares himself for an ending that only he predicts. 
Though he gives a phenomenal performance, Sweatshirt's clarity suffers from an overly rough production and an esoteric subject matter. It's not easy, it's not light and it's not fun, but "Feet of Clay" is a prophetic and personal project by hip-hop's iconic hermit lyricist.