JCU places 2nd at RIT Invitational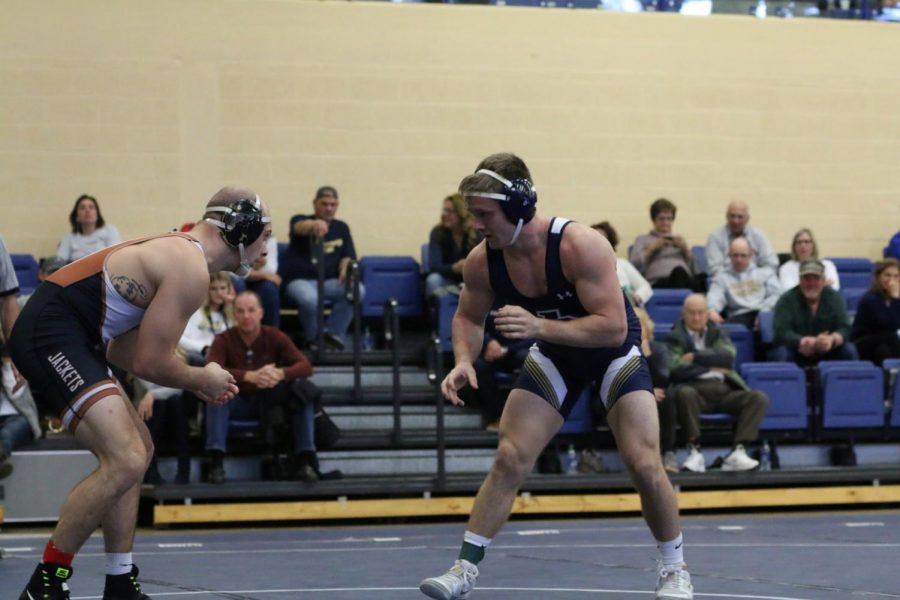 The John Carroll University wrestling team has competed in the Rochester Institute of Technology Invitational a grand total of 28 times, winning the tournament seven times. In last weekend's edition of the competition, the Blue and Gold finished in second place for the second consecutive season. 
With a total of 130 points, JCU finished 24 points behind the first-place winner, host school RIT. Considering the Blue Streaks were without their top three wrestlers, walking away with a silver showing is quite an accomplishment. 
The Blue and Gold are off to one of their best starts as a team in school history. JCU has only lost two dual meets: one against Cleveland State, a Division I athletics program, and  the other against Lourdes University, an NAIA school.
JCU already has eight wins so far this season, beating teams by 19 points on average. In their first scored invitational, they placed 10 wrestlers on the podium. 
Freshman Patrick McGraw, who wrestles in the 149-pound weight class, leads the pack of three second-place finishers. He went 4-1 on the afternoon and is now 22-2 this season. 
The 165-pound juniors Sammy Gross and Seth Winkle also registered second place finishes. 
The Blue Streaks had a pair of grapplers finish in third place. Senior wrestler Danny Novak earned bronze in the 157-pound weight class and sophomore Kyle Murray was third among 125-pound wrestlers.
Murray earned 17.5 points for JCU going 4-1 on the afternoon.
Sophomore Jeff Brichford and junior Aidan Whits, who wrestle at 141 and 184 pounds respectively, garnered fourth place.
Rounding out the final podium finishers was a trio of sixth place finishers, sophomores Luke Reicosky and Stefan Farian, and junior Matt Ferraro.
The Blue Streaks' second place finish was by a margin of 20.5 points, as SUNY Oneonta College finished in third place with 109.5 points.
JCU has three weeks off from action before heading down to Fort Lauderdale, Florida, on Dec. 29-30 for the Citrus Invitational. Ohio Athletic Conference play resumes on Jan. 21 against Baldwin Wallace.
The Blue and Gold have four consecutive OAC matches in the January.