Not satisfied: a black cast is not enough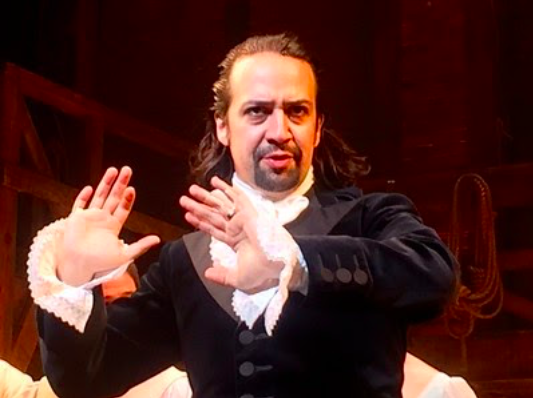 The racial awakening happening in the United States has taught me many things, one of which is to view everything through a critical lens. This applies even to Lin Manuel Miranda's "Hamilton," which details the life of Founding Father Alexander Hamilton. 
On July 3, the sensational Broadway musical was released on Disney+, giving millions of Americans access to this exclusive play. While many people enjoyed this masterpiece in the comfort of their own homes, others questioned its legitimacy in the wake of rampant police brutality, Black Lives Matter protests and debates about tearing down racist monuments.
I am ashamed to admit that I belonged in the former group. I was lucky enough to see "Hamilton" on Broadway in 2017, and I fell in love with Miranda, a lyrical genius. I memorized the soundtrack (my roommate can attest to that) and was unbelievably excited to rewatch Miranda's masterpiece at home to celebrate the Fourth of July with my family. 
Needless to say, I was shocked when I saw "Hamilton" being canceled on Twitter and read articles about how "racist" it is. How could it be? The entire cast consists of people of color—a surprising point of contention. 
I recognized "Hamilton" as a huge step for people of color in the theater industry, in which systemic racism is often a barrier to equal opportunities. Not only did this show offer these opportunities, but it expanded visibility, allowing people of color to see themselves in a space traditionally dominated by whites.
"[I could] see myself in this history that has been told to me over and over my entire life," said Mariah Rankine-Landers, co-founder of education nonprofit Studio Pathways. 
Daveed Diggs, who played Thomas Jefferson and the Marquis de Lafayette in the original Broadway cast, told The Wall Street Journal, "I walked out of the show with a sense of ownership over American history," 
Miranda's choice to cast people of color for the lead roles is a major statement. By having people of color play the roles of white people, slaveholders nonetheless, people of color could reclaim power by rewriting the dominant historical narrative. 
However, San Francisco actor and director Gabriel Montoya challenged this notion: "If we need to dress up as slavers, land thieves and murderers of Natives to be seen as leaders, what does that say about us as a culture?"
Although the lead roles are entirely people of color, none of the historical figures they are playing were actually people of color. They were all white. There are no Black characters. Slavery is ever so briefly mentioned in the show, yet there is no enslaved character. 
While we see the faces of people of color, we never hear their voices—just what they would say as white people, perpetuating a whitewashed version of history. 
A representative cast of color without any real representation.
What message does this tension convey? That we only listen to people of color when they pretend to be white? Referring to Leslie Odom Jr., who played Aaron Burr, Oakland actor and educator Alicia Piemme Nelson said, "The thing that kind of breaks my heart is that to get his big break, he had to play a slave owner."
Through this lens, casting people of color can be viewed as a strategic ploy to check the diversity box, coddling white egos without making any real racial reckonings. "This isn't your stuffy old-school history that's just praising white people. Look, we've got people of color in the cast. This is everybody's story," mocked historian Lyra Monteiro. "But, it isn't. It's still white history. And no amount of casting people of color disguises the fact that they're erasing people of color from the actual narrative."
This romanticized narrative may stall the racial awakening that White America so desperately needs. While the show discusses various themes, I finished "Hamilton" feeling one thing: I am proud to be an American. That just goes to show how good the show is. See my last column. Is this the message that a play with so much potential to dismantle racism wants to convey? 
"Because the art is so moving, there's a danger in feeling like a reckoning has happened, that a reconciliation process has happened," said Rankine-Landers. After watching this show, I fear that many white people, like myself, may become even more jaded to the brutal history of our country by Miranda's ingenious lyrics and catchy music. 
While "Hamilton" is a step in the right direction, we must move away from superficial nods toward diversity to confront the deeper history of racism on which this country was built and continues to prosper.