Where to find trendy vote merch for the upcoming election
In the 2016 presidential election approximately 58% of eligible voters went to the polls according to Penn State University's 2016 post-election recap. This means almost half of the qualified American citizens did not vote in the last election. Voting is how you can use your voice to shape the landscape of this country. Voting merch from various fashion brands is one of the latest trends inspiring people to head to the polls this November. Here are five places you can grab vote fashion staples: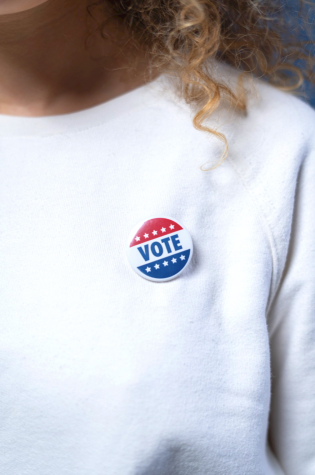 Gap
Gap's Vote T-shirt  was designed by Stephanie Factor as part of the Gap Collective series. The shirt features a V made up of neutral tones and rainbow puzzle pieces, an O consisting of the phrase "every vote counts," a T with a small model of  Black Lives Matter street art and an E with different voting slogans. As well as encouraging voters through apparel, Gap donates to When We All Vote and Rock the Vote, which are nonpartisan organizations dedicated to promoting voter registration.
Old Navy
Old Navy offers an affordable fit with its "Vote Now" T-shirt. Old Navy also supports the opportunity to vote by partnering with Power the Polls to give employees paid time off to work as poll workers on Election Day. Notable people including actress Katie Holmes have been seen rocking this tee.
Amazon
Amazon offers a wide variety of different voting clothing and accessories. Notably, they carry many economical masks with "Vote" in a variety of styles. There is no better way to make a statement for the 2020 election than a "Vote" mask right on your face. 
B-Unlimited
A higher-end option comes from B-Unlimited with its "Hurray for Voting" shirt. This shirt is a part of their "Hurray for…" series, which also includes shirts like "Hurray for Family" and "Hurray for Sisters." 50% of the proceeds benefit I Am A Voter, an organization that helps inform people on voting options.
Teepublic
Teepublic's "Register to Vote" shirt includes a QR code that can be scanned and direct consumers right to vote.gov. This ingenious use of design literally gives its audience a direct link to register. The design is available on sweatshirts, mugs, stickers and T-shirts.
Cute shirts and aesthetic Instagrams can inspire your peers to vote and support great causes, but we must understand why we vote. Doing our civic duty helps all people be heard and enact change. So on Nov. 3, throw on your favorite voter tee, head to the polls and encourage all those around you to do the same.