JCU Hockey ushers in a new era with new uniforms
Be it by pond or rink, since the earliest days in the sport of hockey, a logo has been embroidered on either a dark or white sweater to represent something larger than the last name. That sweater may represent a city, an organization, or a school, but it references something meaningful and recognizable. Given the importance of a hockey sweater, when a team changes jerseys, it may represent a changing of the tides for that team or program. In the movie "The Mighty Ducks," the woeful D-6 squad trades in raggedy uniforms for new green jerseys bought by Mr. Ducksworth, the head of coach Gordon Bombay's law firm. From that point on in the film, the team essentially wins the rest of their games before Charlie Conway's infamous "triple deke" seals the deal over the Hawks.
In the early 1990s, the Cleveland Indians traded their decade-old jerseys for a new scheme, and in the first few years of the new jerseys, the Tribe won two American League pennants. 
This brings us to John Carroll University Club Hockey. When the Blue Streaks next hit the ice, they will be in sleek, new Under Armour white jerseys. The newest jersey features navy lettering of the school's name across the front as well as the player's number, which separates "John" from "Carroll." Two navy stripes expand across the bottom of the jersey as well as the bicep area, and the jersey is finished off with a touch of navy on the jersey lace and across the shoulders. 
"These new jerseys have a mesh feel," said blueliner Jimmy Grable, a third-year student from Buffalo. "Our old jerseys were thicker and heavier, and these new jerseys are lighter and feel much better. Honestly, the old jerseys were hard to wear, so having these new jerseys is a relief. It is an understatement to say how excited we are."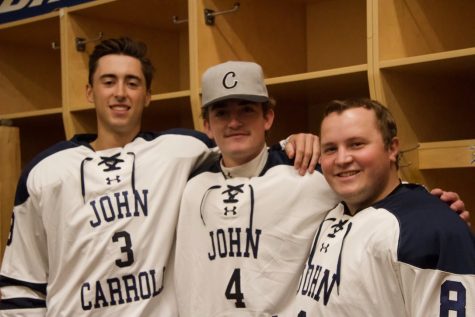 Along with Grable, Coach Scott Shantery also expressed excitement for the new threads. 
"We only have three or four holdovers from classes that I didn't recruit," said Shantery. "It is my third year, and these are all guys I brought here and believe in. I think it was only right to get new jerseys for this group."
"I think these jerseys are a fresh start," echoed Grable. "We've had a tough past two years, and we've had guys bouncing in and out of the lineup. This year without those old jerseys, we have [Brian] Russell and [John] McMahon back, and they are unbelievable. We also are happy we have Ryan Kostelnik back. 
"It is a mental thing, and these jerseys may be the final piece of the puzzle. It is a fresh start, and it is a new year."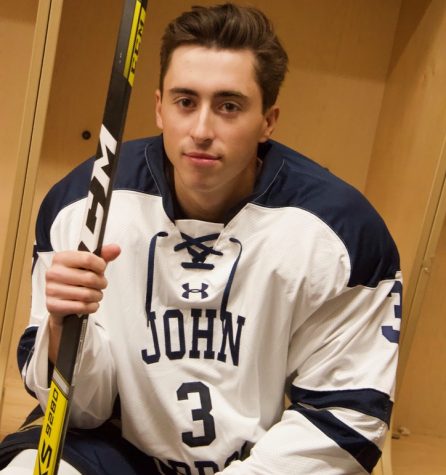 Not only are the jerseys aesthetically pleasing, but they are also comfortable. "I like them," said forward Patrick Gilbert. "They are traditional with the numbers in the middle, and they are very comfortable and are not baggy"
The club hockey program is grateful for their new jerseys. 
"We've been blessed by the school with funding," said Shantery. "We have been given access to trainers, and we have a great relationship with admissions and feel as if we can communicate with everyone. We are very thankful to be a part of the John Carroll and Under Armour athletic partnership."
As the jersey was released, it has already drawn comparisons to many beloved hockey jerseys, such as the NHL's Toronto Maple Leafs and other universities like Penn State, Notre Dame, Boston and North Dakota. 
As far as John Carroll club hockey's off-season goes, the news stories have been few and far between. 
Lydia Holman, the jack-of-all-trades team manager who does everything from marketing to game-day operations, had the latest scoop on the new reveals. 
"We've been really excited about finding new ways to connect with fans through social media," said Holman. "Because of this, getting new uniforms has been a great opportunity to showcase the team. I've been really pleased with the response, and we appreciate everyone's support and interest. 
"We plan to continue to share new content with the JCU Club Hockey community, so be on the lookout." 
In an ever-changing world, our Blue Streaks look to evolve on the ice into the monster many think they are capable of being. A change in jerseys may just be what they need.