Hall-of-Fame Stadium, OAC tabbed as hosts for 2021, 2025 NCAA Division III National Football Championship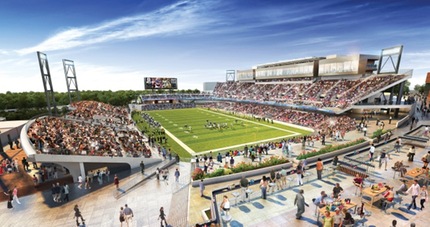 On Wednesday, Oct. 14, the Ohio Athletic Conference and the Stark County Convention and Visitors' Bureau announced that the 2025 NCAA Division III Football Championships will be held in Canton, Ohio. 
This will be the second time in five years that Canton will host the NCAA Division III Football Championships, as it will be home for the 2021 championship game as well. 
Both the 2021 and 2025 championship games will take place at the historic Tom Benson Hall of Fame Stadium. 
The OAC is proud to partner with @VisitCanton and @ProFootballHOF to host the 2021 and 2025 NCAA Division III Football Championship! #OAC #NCAAD3https://t.co/fxRstapcph pic.twitter.com/nc29Me0K2C

— OAC (@OHAthleticConf) October 14, 2020
Members of the JCU football team are excited about this potential opportunity to play at the Tom Benson Hall of Fame Stadium. 
"When I was in high school the goal for was to make it to the Canton Football Hall of Fame to play in the Ohio High School Football Championship Game," junior Andy Waggoner stated. "If the Blue Streaks have the opportunity to play at the Pro Football Hall of Fame and potentially win the National Championship, it would be a big deal and a cool experience since I am from Ohio" 
Canton placed its bid in August 2019, along with 3,000 other bids for the 86 championship events. The selection was made based on which site the NCAA and each division sports committee believed would give the most rewarding experience for the 54,000 student-athletes that compete in NCAA championships each year. 
The NCAA made history by announcing sites for 86 championships spanning over a four-year window, their largest announcement of hosts ever. Previous to this announcement, the NCAA would do site selections for each sport separately. With the change, the NCAA and host sites have more time to plan and prepare for each championship event, according to the NCAA. 
Four teams were not included in the announcement Wednesday because they already had championship site arrangements. The four championships left out of the announcement were: Division I baseball, football, softball and Division III women's ice hockey.