A haunting at JCU: Students and alumni share their John Carroll ghost stories
Rumors about John Carroll University's haunted history have loomed over campus for many years. With some buildings that predate the 21st century and have a rich past, there is no telling what spirits and supernatural entities lie below the surface of this quaint little college.
For many researchers of the paranormal, the likelihood that a location is infested with ghosts or souls can be determined by the age of the area. According to Alex Lafayette '21, a past officer of JCU's Paranormal Research Group, this means that JCU is a hotspot for supernatural activity. 
"I believe any place that has been around as long as JCU, with as many people as it has coming and going from campus each year, is bound to have some sort of paranormal activity," Lafayette told The Carroll News. "I do believe some areas of campus are haunted. I have heard rumors about ghosts in the clock tower and students from the past haunting the older dorms."
Casey Bednarski '18, who was also an officer in the PRG, agreed with this statement. 
"I wouldn't be surprised to find out that JCU is haunted," she said. "While I was a student, I heard tons of stories about paranormal sightings in a few of the resident halls, and I had a few experiences myself. I definitely experienced a few things like objects moving and hearing knocks while in Murphy Hall, but I always thought that it was likely just a spirit following us back to campus after an investigation. So not necessarily a JCU haunting, but still paranormal activity on campus."
Lafayette said she had her own strange experiences while living in older dorms on campus. 
"I lived in Dolan Hall during my freshman year," she said. "There were times when I would wash my face in the bathroom and think someone was there with me, only to open my eyes and see no one, just eerie feelings like that."
A recent graduate of John Carroll University, Jaymie Pampush '20, detailed her experience with a spirit inside of Pacelli Hall on JCU'S Her Campus website. Pampush described the ghost of "Olivia" and how she haunted the third floor of the Pacelli residence. The spirit is said to turn on faucets, knock on doors and unplug electrical items. Pampush reported that Olivia wears a sweater and only causes minor panic in students. 
Many students have had spiritual encounters in other dorms as well. Mary Kate Barron '21, who lived in Hamlin Hall, stated, "The ghost of Hamlin is real. There is apparently a female ghost that haunts the Chi O floor. My friend Maguire also saw blood in the bathrooms when he was the only one living on his floor in Hamlin earlier this semester for RA training."  
Bednarski also detailed her own experiences. "I've heard rumors about a ghost that appears in one of the stairwells in Campion. I've also heard a lot of talk about a male spirit that can supposedly be found in Hamlin Hall. I actually know two girls who said that they both saw this spirit's figure on the first floor of Hamlin, but that's all I've heard.
"For me, the most haunted place on campus would be Murphy Hall. I'm 100% confident that a spirit came back to my dorm room after investigating an off-campus location, so I had a lot of activity there. Other than that, I would say Hamlin [is a haunted spot] since I definitely believe that a figure was seen there."
Besides the residence halls, other rumored locations of paranormal activity on, or rather under, campus are the reported tunnels that run underneath the entire property. In a past issue of The Carroll News published in 1969, reporter Harry Gauzmen stated that he had discovered the underground tunnels as part of his journalistic resume.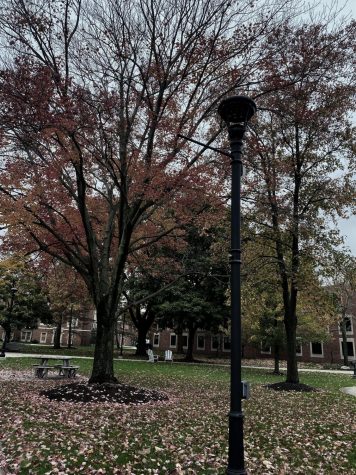 In another Carroll News issue published in 1990, reporter Kevin Williams conducted research on the tunnels and how they were supposedly related to the Cold War as nuclear fallout shelters. Williams said within his article that "evidence could be seen of these tunnels [after a recent rainstorm]. Puddles outside of Dolan and Pacelli could be seen bubbling, signs of pockets of air just below the concrete." 
Williams gave key information about the tunnels, including that they go to "just about every building on campus"and that they "are not large enough to walk upright in." He wrote that The Carroll News staff at the time was denied access to the tunnels due to "safety concerns." 
"I have not been to the tunnels," Layfayette said. "I would like to eventually though. [However,] the PRG was never allowed to conduct investigations on school grounds. You should never conduct an investigation where you live!"
"Unfortunately, I was never able to see the tunnels below campus," Bednarski stated regarding the PRG's knowledge of the tunnels. "The PRG probably would've gotten in a lot of trouble if we tried to explore or investigate any locations on JCU's campus. But given that JCU is fairly old and the tunnels have been blocked off for so long, I wouldn't be surprised if there was something paranormal going on."
Although there is much doubt about the existence of the supernatural, many believers don't let it phase them. 
"I'm sure that most people think that the rumors about JCU being haunted are fake, but they have to come from somewhere!" Bednarski exclaimed. "When you talk about the paranormal, people usually assume that you're delusional, but some of the rumors could have started from real students' experiences."