Managing my mental health in a year-long pandemic
The World Health Organization officially declared the COVID-19 crisis a pandemic on March 11, according to PubMed.gov. I think that each person remembers the exact date, time and place when they realized the severity of the situation. Every day of that particular week remains so vivid in my memory.
On March 12, my mom told me my brother's high school musical had been canceled. Since we had just been sent home from John Carroll, I was aware of the virus' severity. But it was only at that moment that it finally hit me: Life would never be the same.
As curfews lift and talk of reopening businesses and schools ensues, we are catching a glimpse of what normal life used to look like. It is not the same, though. We are all left with a ginormous scar of the past year's traumatizing nature and expected to move on as if nothing had happened. 
Somehow, I made it through months of pandemic life, grief and my own personal experience of having COVID-19 without too much mental strain. As we near the first anniversary of the world shutting down, I am starting to notice the toll the pandemic has taken on my mental health. It helps to know I am not alone, as news publications and psychiatrists have declared the mental health crisis in the U.S. as the "secondary pandemic," according to Psychiatric Times. 
Like many others, I have always struggled with mental health. I remember having my first panic attack at six years old. My family was visiting an amusement park and suddenly I felt — as I put it at the time — like I was "in a dream." My vision became blurry, and my heart was racing. I did not feel anything like myself. 
From that point on and through adolescence, I labeled myself as having anxiety, but I never understood how intense it could get. Recently, the monotony of nearly three semesters of online courses has gotten to me. I feel robbed of my college experience, even if in my heart I know it will all be worth it one day. 
Last week, I struggled through an anxiety attack while trying to complete a simple homework assignment. Simultaneously, I saw a petition started by juniorHaley Palmercirculating on social media. Titled "Approve mental health days for JCU students," the petition has 383 signatures as of Feb. 22. It was posted Feb. 15 in response to the removal of Spring Break. 
While I assume some may have seen this petition as an opportunity to get out of Zoom lectures, I felt a surge of pain and empathy knowing that at least nearly 400 students really do need a break.
I spoke with Palmer and her roommate Lauren Kopcienski about their motivation behind starting the petition.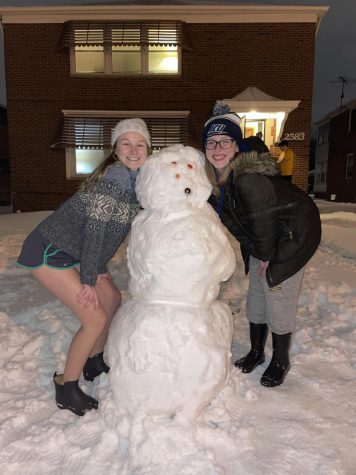 Palmer believes online classes are exhausting in a different way than in-person classes due to the screen fatigue and lack of activity during the day.  "It is so difficult to walk laps around the house in between classes, whereas on campus, we would be getting so much more exercise," she said.
In order to lift their spirits and take their minds off schoolwork, Palmer and Kopcienski spent time building snowmen outside a few weeks ago. "Being so close in proximity to all of our friends and not being able to see them in person is a big struggle," Palmer said. However, the duo tries to make the most of these difficult times by partaking in some "childhood fun," as Palmer said. 
Protecting ourselves from COVID-19 is important. However, taking time to check on your mental health and look into solutions right for you is vital. Mental health, despite all the studies surrounding the topic, is still so stigmatized. 
I encourage you to take care of yourself, both mentally and physically. The weather is gloomy, we have been in a pandemic for almost a year, and life can feel pretty repetitive sometimes. 
President Michael Johnson and Academic Vice President Steve Herbert contacted Palmer and Kopcienski regarding their petition. Johnson and Herbert said they believed that advocating for mental health was important, and they assured the girls that they were not alone, according to Palmer. At the end of the day, mental health days are left to the discretion of each professor.  
Sometimes, I believe we have lost our sense of comradery in the midst of this mess. However, speaking with people going through similar experiences reassures me that we are still in this madness together.