MGK's new Cleveland cafe brings punk and punch
Colson Baker, known by most as Machine Gun Kelly, opened a pop-punk inspired coffee shop in Cleveland on August 26. Located in the industrial Flats East Bank, the cafe is called 27 Club Coffee, an edgy nod to the infamous group of musicians and actors who died at 27 years old. 
The shop softly opened a month prior to MGK's first announcement of the café. The day after his "Tickets to my Downfall" album release, he posted the ribbon-cutting ceremony on his Instagram, sitting alongside girlfriend Megan Fox. He wrote in the Instagram post, "Officially opened our coffee shop today in Cleveland." 
I chose to make my visit the day after the massive publicity boost, and the wait to get inside was quite long, especially given social distancing guidelines and the influx of eyes on the business. QR code menus are provided outside to avoid clustering inside.
MGK, a Shaker Heights High School alum, has recently evolved his music style from rap to a more pop-punk genre. He established his new sound in the Sept. 25 release of his album "Tickets to my Downfall." His new personal brand of leather-padded, pink-and-black, skull and crossbones and appreciation for the most iconic pioneers in music is translated into the brand of his coffee shop.  
Loud beats from MGK's new album, classic pop-punk records and rock tunes alike are pumped through the vaulted-ceiling, modern, lounge atmosphere. According to a Nov. 2019 WKYC interview with the coffee shop's construction company representative, the original intention for 27 Club Coffee was to be "a coffee shop by day and a lounge by night."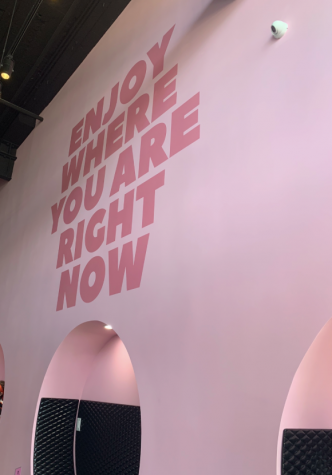 While COVID-19 has forced 27 Club Coffee to temporarily close in the early evenings, the aesthetic of the shop as a daytime café still works.The pink-and-black theme is tastefully incorporated into the furniture, with the most popular photo-op being the leather dome cutout seats situated under the "Enjoy Where You are Right Now" mural. 
Matthew Courtney '21 visited 27 Club Coffee on Sept. 26 and said, "It is a cool spot with a great atmosphere." He acknowledged the long wait time but said that would not deter him from visiting again. 
The menu's unique depth makes it challenging to order. Pink-frosted cinnamon rolls, "Rise and Shine" breakfast pizza, a variety of avocado toasts and "Pabst Blue Ribbon" chicken and waffles are just some of the flavor-packed items.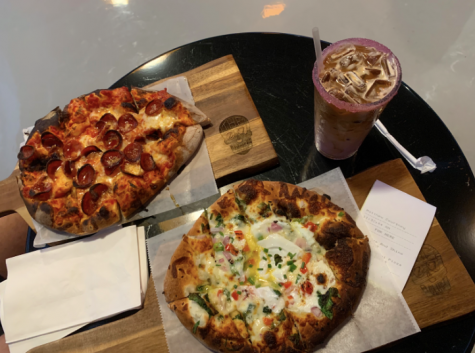 While the novelty of 27 Club Coffee may distract from the fact that it is an actual cafe, the drink menu contains classic choices for any level of coffee enthusiast. Die-hard caffeine lovers can enjoy an espresso or the 'Diabo house blend' from MGK's careful selection of beans from Africa and South America, according to an article by Music Mayhem Magazine. On the lighter roast side, the pink latte is a simple-tasting yet photo-worthy choice. 
For those over 21, one of the featured cocktails is called "Lithium Lemonade," an infusion of vodka, chamomile, poppy lemonade, elderflower liqueur and activated charcoal. 
The acknowledgement of those who died at 27 is seen throughout the shop with table markers of sketches of those a part of the club, such as Heath Ledger and Jim Morrison. 
Despite the high prices and long wait times, the novelty of the cafe makes it worth a visit. While it may not be your go-to spot, it is definitely a fun, unique experience for any Clevelander or tourist. I personally see 27 Club Coffee as a novelty cafe, with slightly expensive prices justified by the photo opportunities and ability to see the brainchild of a musician on the rise.