In the Shadow of 2 losses, the future is bright for The Blue Streaks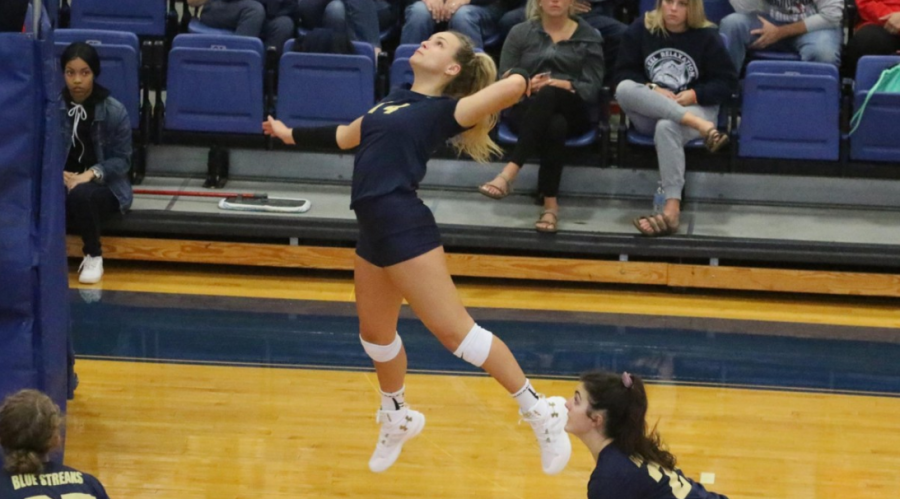 Sean Freeman, Assistant Sports Editor
October 3, 2018
Two tough losses at home on Sept. 29 were disappointing for the John Carroll University volleyball team, but they did provide a glimpse of the talent that will dominate Ohio Division-III volleyball in the years to come.
Over the weekend, the John Carroll Blue Streaks dropped two matches during a round-robin-type tournament with Muskingum University and Mount Vernon Nazarene University.
In the opening match, the Fighting Muskies took three straight sets on the Blue and Gold, sweeping the Blue Streaks. While that does not look great in the final box score, it is important to note two of those sets were determined by less than four points. JCU only had three more errors and seven less kills than the Muskies, demonstrating how tightly matched the two teams were.
In the second game against Mount Vernon Nazarene, the Cougars took the Blue Streaks to five sets where the visitors pulled out the win. After a close first set, in which JCU claimed victory, every other game was easily handled by either team, winning by margins of six to ten points. Like the first match, the teams were evenly matched statistically, with Mount Vernon Nazarene actually committing more errors but also compiling more blocks than the Blue Streaks.
While both of these contests displayed consistencies in gameplay, the three teams had another thing in common: their rosters. All three of the squads are predominantly filled with underclassmen who are already performing at a high level for their teams. Both John Carroll and Mount Vernon Nazarene have nine freshman. JCU and Muskingum only have two seniors on their teams, apiece. While those seniors play crucial roles as key players and leaders, these teams are dominated by young talent.
Despite the end results, sophomore Sarah Calabrese finished her day with 32 kills and an ace. Freshman hitters Brooke Hjerpe and Cassi Calamunci hammered home 26 and 17 kills across both matches, respectively. Hjerpe also added two aces to her day's totals. Freshman Kailee Herbst played in seven sets and came away with four kills against Mount Vernon Nazarene, the most she's had in any match as a Blue Streak. Freshman Rachel Bleile accumulated 33 assists and 16 digs on the day.
JCU has a lot of young talent that are performing now and will only get better with time. By the looks of these other teams, however, JCU's players won't be the only ones ready to dominate in the years to come.
The Blue Streaks hosted the University of Mount Union on Oct. 2 and will face Geneva College Oct. 4 at 7 p.m. here in University Heights.