3 Takeaways from Browns 12–9 OT Win against the Ravens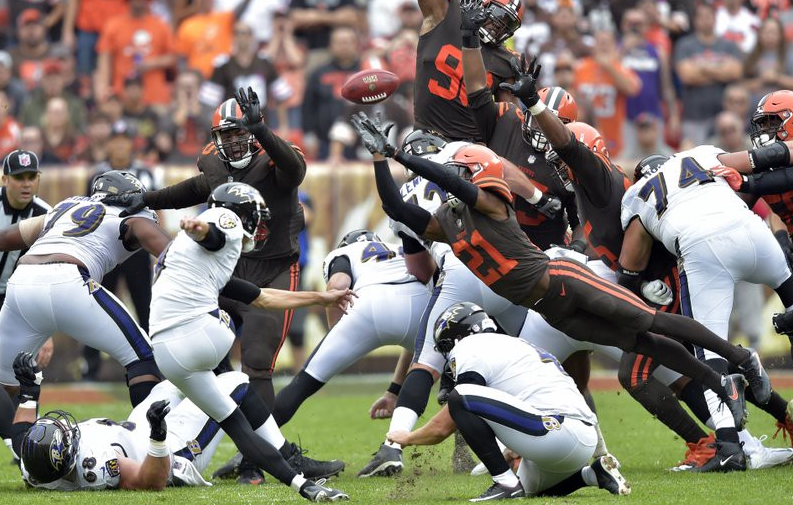 Max Argento, The Carroll News
October 9, 2018
The Cleveland Browns seem to not be bad. They have two wins, more wins than they had in 2016 and 2017 combined. Here are three takeaways from week five's game against the Baltimore Ravens.
"Undefeated at home" has a nice ring to it.
After the Cleveland Browns' week five 12–9 overtime win over the Baltimore Ravens, the Browns move to 2–2–1, showcasing a home record of 2–0–1. Even though the wins have been close, low-scoring games, the wins are what matter at the end of the day. Head coach Hue Jackson can feel satisfied knowing that his young team can use home field to their advantage, especially against division rivals who possess top 10-caliber quarterbacks. Jackson would like nothing better than for FirstEnergy Stadium to become a fortress. Good teams win at home; great teams don't lose at home. If the Browns want to be great, they have to do just that — starting undefeated is the right start.
2. Baker Mayfield leading the charge
As Baker Mayfield goes, so goes the offense. Although the offense only scored 12 points all day and Mayfield's performance was a mixed bag, the Browns coaching staff can still feel encouraged watching their rookie lead the offense. Being able to rebound from throwing an interception on his first series is something that will serve him well moving forward, and the offense looks like much more of a threat to score when he is calling (and extending) plays. Tyrod Taylor takes care of the ball and runs the offense conservatively, but there is no question that Mayfield can do things with the ball that Taylor cannot. If Mayfield can continue to grow and limit his mistakes, the Browns will be in good hands.
3. Denzel Ward shows out … again
Rookie cornerback Denzel Ward continues to impress. When the former Ohio State cornerback was drafted fourth overall in the most recent NFL draft, nearly everyone thought that the Browns had made yet another error in choosing the right player. Boy, were they wrong. Ward looked great, almost causing a fumble on the first series of the game (it was called incomplete), coming up with another interception off of a tipped ball in the second quarter and blocking a field goal at the end of the first half.
Ward helped the Browns keep the lead going into the locker room at the break. An already staunch defense highlighted by a big time player like Ward has been a weapon that can be used against any team to great effect.
In Week 6, the Cleveland Browns (2–2–1) will face off against the Los Angeles Chargers (3–2) at FirstEnergy Stadium.
Cleveland will look to extend their home winning streak to three games.