Styles' historic moment and flak that followed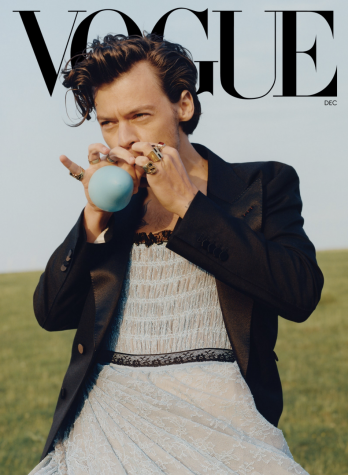 Harry Styles made history as the first man photographed solo for the cover of American Vogue in the upcoming December issue. The British pop singer was styled by Camilla Nickerson and photographed by Tyler Mitchell. The upcoming Vogue editorial is breaking down gender normative barriers within the garments selected. 
According to his Vogue cover story, Styles suggested, "Clothes are there to have fun with and experiment with and play with. What's really exciting is that all of these lines are just crumbling away." The historical cover comes 128 years after the internationally recognized magazine began.
Many people are outraged with Styles' clothing for the shoot. Critics have deemed it emasculating, stripping away the strength and dominance that men should possess in America. 
Conservative activist Candace Owens took to Twitter to voice her opinion on the editorial shoot. On Nov. 16, Owens tweeted, "Since I'm trending I'd like to clarify what I meant when I said 'bring back manly men.' I meant 'Bring back manly men.' Terms like 'toxic masculinity,' were created by toxic females. Real women don't do fake feminism. Sorry I'm not sorry." 
Owens then shamed Styles' self-expressionism and choice of fashion on her Instagram account. "Who would have thought that would have caused an absolute firestorm for something as basic as saying that men are good for society. It caused a firestorm on the left because the left hates anything normal or anything that looks remotely normal."
Reactions to Owens began to blow up the internet and social media platforms. Even Styles' mother, Anne Twist, spoke out on the controversy of her son's style choices on the U.K. talk show "Lorraine."
"Do you know what I love about him?" Twist asked host Lorraine Kelly. "Why should you think clothes are for girls or clothes are for boys? Wear whatever you like."
While Twist did not directly respond to the hate Styles was facing, she said "He's just Harry, really. He's always been Harry," then commended him for his fearlessness within his fashion. 
Though Owens cited tradition in her argument, her attack on how feminism targets masculinity is historically incorrect within the realm of dresses and fashion. 
Medieval Europe, 18th century Westernism and even Biblical times undermine present-day gender norms in fashion. In Ancient Rome, as early as 753 B.C., a cloak of fabric called a toga was the go-to for men. From Baroque to Renaissance art eras, Jesus Christ was typically dressed in knee-length tunics and robes. Archaeological evidence shows that the earliest types of clothing were wrap skirts and aprons for both sexes. 
While some are concerned with the destruction of tradition by Styles' cover photo, it is much more complex than one of the world's biggest heartthrobs wearing a Gucci dress.
Women did not start wearing pantaloons underneath tunics until the Dress Reform Movement in the late 1800s, and they did not start wearing pantsuits until World War II when the men went to war and women worked at factories, offices and other formerly male-dominated industries.
Owens has been photographed multiple times challenging the very gender norm fluidity she detests. The salmon pink pantsuit combo Owens wore for a Playboy interview last year would have disturbed gender stereotypes less than 100 years ago. If she is allowed to color outside the lines of her own gender norms, can men do the same?
Other activists, actors, politicians, fans and even YouTubers have celebrated the upcoming Vogue cover. YouTuber Logan Paul came to Styles' defense when "Impaulsive"  Cohost Mike Majlak criticized the photographs and fashion choices on their latest episode.
"What is 'manly' to you?" Paul asks his cohost. "What does it mean? Is 'manly' being comfortable in your own skin, and being comfortable with who you are, regardless of what people think about what you're wearing?"
"You guys are making it something its not," Paul emphasized. After the episode release, people surged to Twitter to praise Paul for challenging his friend's questionable remarks on what "masculinity" really means.
Styles' monumental debut on the cover of Vogue next month is a reminder that creative expression through fashion is up to the individual wearing the dress, or the salmon pantsuit.
"There is so much joy to be had in playing with clothes. I've never thought too much about what it means — it just becomes this extended part of creating something," said Styles.