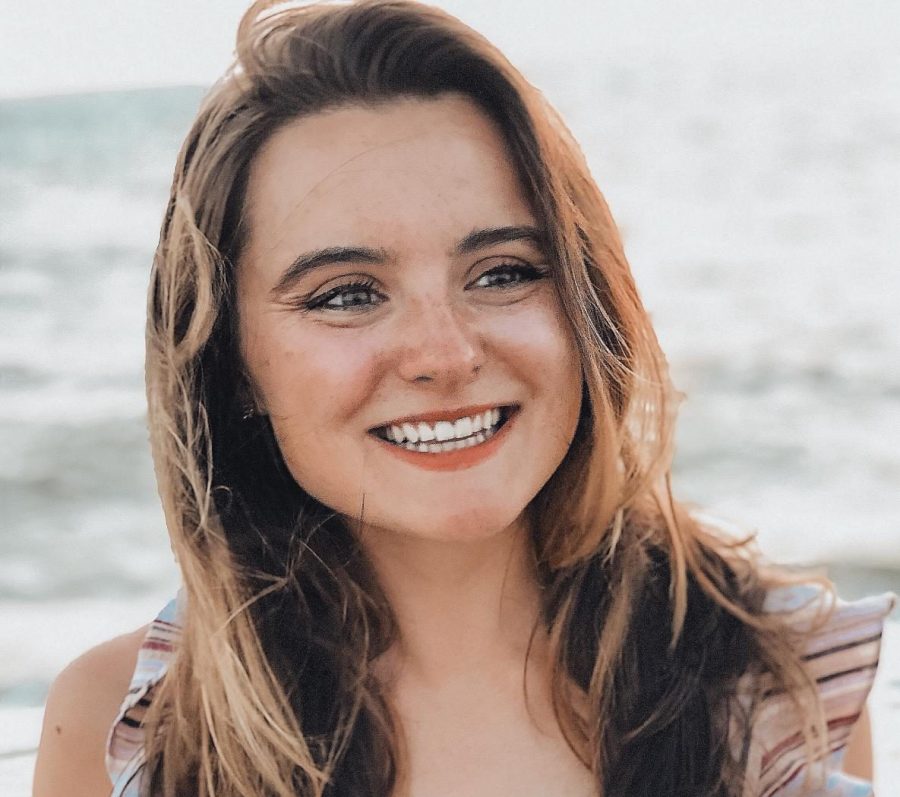 Meet Ella Schuellerman, our Arts & Lifestyle Editor of The Carroll News. Ella is a Communication major with a focus of Integrated Marketing and a Business minor of Entrepreneurship. Graduating in Spring of 2021, Ella exemplifies what it means to accomplish anything you put your mind to. Ella began writing for The Carroll News as a staff reporter in 2017 and by the end of the school year rose to Arts & Lifestyle Editor.
In addition to her marketing, digital media, creative writing, entrepreneurship, and innovative work, Ella has studied multiple visual arts. In 2019, Ella studied abroad at Regents University London and lived right in the heart of Regents Park. During that semester, she studied photography, film, media, design and fashion, learning directly from mentors who have worked in The Arts for decades.
In addition to her nearly three years at The Carroll News, some of her favorite jobs included her time as an Experience Manufacturer and Vendor Coordinator for the Cleveland Flea (2018-2019) and the Marketing and Branding Intern for the Tim Russert Department of Communication (2019). Her newest endeavor is writing a book about normalizing normal bodies and the lifetime struggle women experience accepting themselves, set to publish in Spring 2021.
Originally from Hudson, Ohio, Ella commends her love for writing from her parents Pam and Dave Schuellerman. She looks up to her younger siblings Calvin, Henry and Cara as her biggest motivators. If Ella is not spending time writing or working, you can find her hitting up a local coffee shop or supporting local businesses. Her favorite way to spend a Saturday in Cleveland is with some ice coffee, strolling through a farmers market, a hike and ending the day with some Mitchell's Ice Cream.
Ella Schuellerman, Arts & Life Editor
Dec 10, 2020

Feeling like an impostor

(Story/Media)

Nov 19, 2020

Styles' historic moment and flak that followed

(Story)

Nov 18, 2020

Change of turkey festivities and dirty dishes

(Story/Media)

Nov 13, 2020

Local coffee company transitions to employee-owned

(Media)

Nov 12, 2020

Sustainable and ethical brands to support

(Story)

Nov 12, 2020

Insta-worthy hidden gems: Blue Sky Brews

(Story/Media)

Nov 11, 2020

Why soaking up a daily dose of Sunny-D is important

(Story/Media)

Nov 05, 2020

Finding peace in slowing down

(Story/Media)

Oct 29, 2020

Three hundred million

(Story/Media)

Oct 08, 2020

5 delicious carryout restaurants in Cleveland

(Media)

Oct 07, 2020

E's Editorial: Last of the normals

(Story/Media)

Oct 02, 2020

Flow Friday: 10.2.20

(Story)

Sep 30, 2020

E's Editorial: a new spin on a split house

(Story)

Sep 28, 2020

Northeast Ohio boutique owners facing sexual assault lawsuit

(Story)

Sep 23, 2020

E's Editorial: how I reinvented my productivity

(Story)

Sep 18, 2020

Flow Friday: 9.18.20

(Story)

Sep 16, 2020

E's Editorial: no longer "keeping up" With dangerous body ideals

(Story)

Sep 09, 2020

Having COVID-19 changed my perspective

(Story)

Sep 09, 2020

JCU Goes Virtual for Remainder of Semester

(Media)

May 01, 2020

Innovative at-home workout guide

(Story)

Apr 09, 2020

Shaker Heights native's novel turned into riveting Hulu series

(Story)

Feb 27, 2020

Sustainability Saves: How to Make Your Life More Eco-Friendly

(Story)

Feb 27, 2020

Not Worth the Puff of Air

(Story)

Feb 20, 2020

Dwayne Wade's Daughter, Zaya Wade, Comes Out as Transgender

(Story)

Feb 13, 2020

Growing Together: The Story of Molly and Joe

(Story)

Feb 09, 2020

Collaboration of Two Classics in Cleveland

(Story)

Jan 30, 2020

Trendsetter: oversized blazers make sophistication comfortable

(Story)

Jan 30, 2020

Life is Purposeful

(Story)

Jan 23, 2020

Clothes Cost Lives

(Story)

Nov 21, 2019

E's Editorial: Exploring Myself

(Story)

Apr 30, 2019
Apr 30, 2019

Met Gala 2019 Theme Announced: "Camp: Notes on Fashion"

(Story)

Apr 14, 2019
Apr 14, 2019

Met Gala 2019 Theme Announced: "Camp: Notes on Fashion"

(Story)

Mar 22, 2019
Feb 21, 2019

E's Editorial: Sick of FOMO

(Story)

Feb 13, 2019

Column: Love, Your Valentine

(Story)

Feb 07, 2019
Oct 16, 2018

Mumford & Sons Announce World Tour

(Story)

Oct 16, 2018

E's Editorial: XΩXΩ For Glorious Greek Life

(Story)

Oct 16, 2018

"A Star Is Born" Hits The Movie Screen

(Story)

Oct 16, 2018

Cleveland Local: The Modern Mama

(Story)

Oct 16, 2018

Mac Miller's Influence

(Story)

Oct 16, 2018

E's Editorial: Dear Future Self

(Story)

Oct 16, 2018

Cleveland Local: Legend Headwear

(Story)

Oct 16, 2018

Back-to-School Street Style

(Story)