Hayden Snow becomes first John Carroll University National Champion in 17 years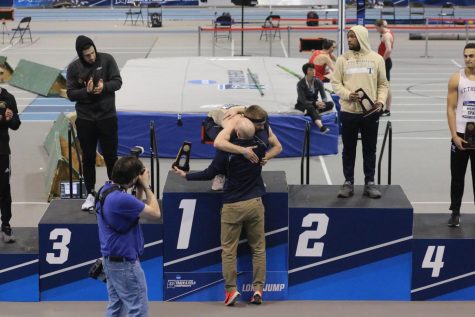 Around a month ago, John Carroll University sports information director and former starting quarterback Anthony Moeglin engaged in a conversation regarding the "Mount Rushmore" of John Carroll athletes. One current athlete that they mutually agreed on that should make that select four is JCU track star, junior Hayden Snow.
Among the highlights on his respectable resume at that time were a two-time NCAA qualifier in the indoor long jump, an Ohio Athletic Conference championship in the long jump, and his name etched in the John Carroll record books in a few different categories.
Now, he accomplished the one piece to the puzzle that was missing: A National Championship. Snow won that title in the indoor long jump on Friday, March 8 at the NCAA National Championships in Boston. His mark of 7.49 meters was the winning mark and in interesting fashion.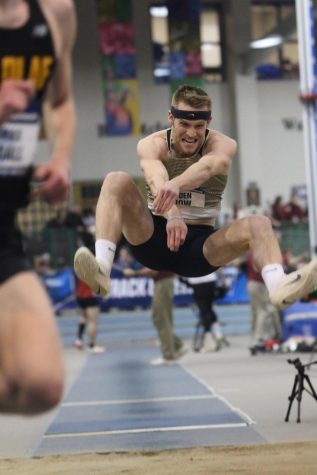 Snow described it as followed, "My first jump I popped off a 7.49 meter jump and that ended up being good enough to win. By the time it was time for my last jump, I already won. The guy in front of me had a red flag because he fouled. I knew right then and there that I had won."
Snow jumped a second time anyway, increasing his mark by .08 meters. And now for the first time in 17 years, John Carroll University has a National Champion.
"I was kind of like, 'Wow that actually happened.' This was a goal of mine that I wanted to achieve ever since I came here freshman year. It finally happened," Snow told the Carroll News. "I was able to look down the runway at my supporting staff. All my family, my friends and teammates, were up clapping and screaming. It was an absolutely awesome feeling that you know you did it."
In his three years as a Blue Streak, Snow has certainly made his mark on the JCU men's track and field program.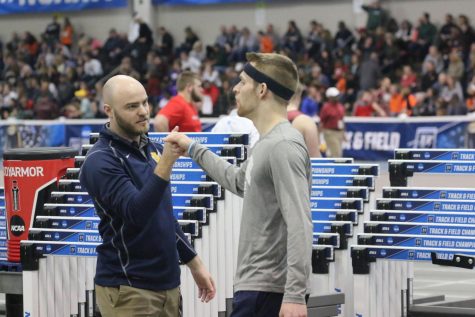 "He's definitely a game changer. He brings a competitive edge," head coach Kyle Basista told the Carroll News. "He's someone that [assistant coach] Jake Alexander and I have built the program around. It has helped our whole program get to the next level and strive for something more than just conference championship."
Conference championships have not been hard to come by for Snow either. In his career in Blue and Gold as an individual competitor, Snow has won the OAC long jump every time in his collegiate career, as well as the 200 meter in the outdoor. Among his team accolades, his team won the 4×100 meters in 2018 which qualified them for a National Championship. They finished third and Snow learned a valuable lesson after earning a National Championship individually.
Snow was proposed a metaphor that winning the title was a cherry on top his JCU career; He responded with a simile, "winning that first National Championship is like a spark, where it starts to happen a lot more than what we have seen in the past."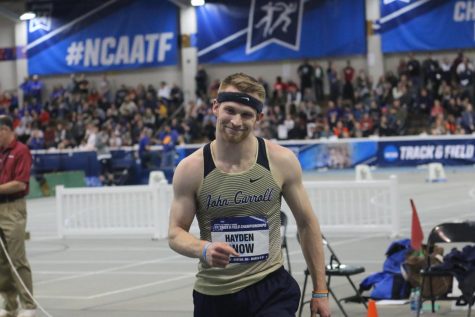 That next chance as a team will likely come in the 4×100 meters. "I want to go for a title in the 4×100 meter with three other of my teammates. We know as individuals know can achieve it."
Basista feels the same way saying, "[Snow] wants to win the 4×100 meters. We want to win that too."
As a junior, both Snow and Basista know that he will not be around forever. "He's a junior now, before you know it he will be gone. We are trying to relish what we have," said Basista. "He has helped everyone from that competitive level to get the most out of them. Obviously, Hayden is talented but his greatest aspect is he is a competitor. Every single day he brings it."