990s Kicking it Back on the Street
Petar Vidovic, The Carroll News
March 28, 2019
Hang on for a minute...we're trying to find some more stories you might like.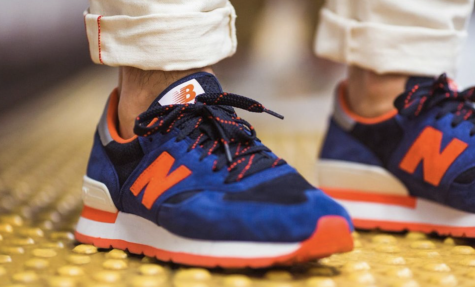 Rocking a retro-dad aesthetic, clean lines and modern chunk combine to make an extremely lovable pair of shoes — the New Balance 990v4. The brand's first pair of 990s came out in 1982 and were projected to be on at least 5,000 pairs of feet. To their surprise, double that number were sold.
The shoes represent the core values of New Balance: a carefully thought out design, lots of troubleshooting and tweaks, and timeless originality. Sticking to these values results in a steeply priced product. This elevated price in and of itself represents two qualities that went into the shoe's production: functional design for runners and a prestige that would bestow itself upon anybody donning them.
Since it stood above the prices of other shoes in the market at the time of its debut, the 990s were an item of status. Nobody expected the shoes to sell like they did. Along with the shock of market sales for a shoe above the price of $100 in 1982 came a realization that the 990s were a delicious design for consumers that extended beyond its monetary value and time period.
The shoe has gone through four iterations over the span of 35 years, combatting an ever-changing marketplace with timeless design. New Balance keeps up its modernity in the new 990v4 while paying homage to its "Made in USA" roots. According to the brand, the New Balance Made collection has a domestic value of  70 percent or greater.
Consumers today look to buy the future in the present and the timeless today.
When examining the 990v4, it is apparent that nothing was done by accident. The shoes feature an ENCAP® midsole technology for support and durability, a pigskin and mesh upper and one-of-a-kind paneling. Shades of grey and castle-rock are a delineation of beauty in a clean and icy design.
Emily Oberg, founder of the brand Sporty & Rich, has been a big advocate of the shoes. I received Oberg's opinion on the New Balance 990v4 via Instagram direct message: she says the shoes are "the perfect shape and silhouette. They are practical, functional and encompass good classic design principles."
New Balance keeps its eyes on customers and responds accordingly. Though they pay their respects to regionality, their designs are on the feet of people all across the world, and New Balance pays attention to that. The brand released a line of its most popular shoe in Japan, the 996 Revlite; a shoe that has kept its relevance for over two decades since its drop.
It may be easy to overlook New Balance's ability to refine its sneakers consistently in a manner that produces functional and sleek silhouettes with quality paneling and fabric that runs deep, as a dad shoe. However, it takes a certain taste and appreciation to see it as a lifestyle choice that comes with the comfort of good design. The perfect middle ground of running and lifestyle, the 990 can adapt to running attire, post-modern business casual, sweats, etc. While you move with your shoes, the shoes move with you too — keeping up with anything you throw at them. The 990v4s that I own have seen a lot of Ohio's harsh weather transitions these past few months without withering in their quality or comfort. A dear friend of mine, Billy Lennon, who also owns the shoes stated, "the shoe says all that you need to know, particularly the grey version. They're a statement in and of themselves, without screaming their way into relevance with fancy color-schemes."
A well designed product is able to do just that: laying it down while picking it up. Through the 990v4 that is wedged comfortably in between time and legacy New Balance has solidified its pitch that, "out of 1000, this shoe is a 990."