2021-2022 John Carroll winter sports preview
The sun has set on the fall sports season, signaling the onset of climate-controlled gymnasiums and steamy natatoriums. Soon, spectators and athletes will no longer have to brave the unpredictable elements, as the winter athletic season arrives. At John Carroll University, this means upcoming basketball games, wrestling matches, and swim and dive meets that shine a novel athletic light on a well-renowned Ohio Athletic Conference University.
Women's Basketball 
For those who love a fast-paced, dynamic sporting event, the John Carroll University Women's Basketball will not disappoint. The Blue Streaks are coming into the season ranked at No. 8 in the D3Hoops.com  preseason poll, with two returning All-Americans –  Nicole Heffington (Graduate Student) and Olivia Nagy '22.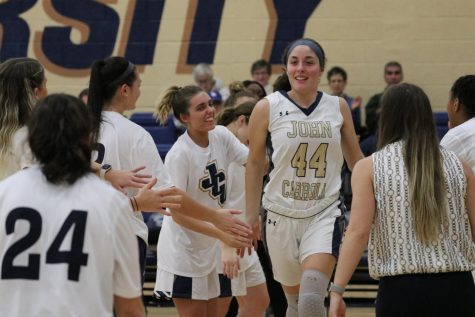 On top of impressive pre-season accolades, John Carroll looks to defend two Ohio Athletic Conference Championships, along with Division III National Collegiate Athletic Association tournament appearance, all within the last three years. The three year span of time is marked by 58 victories (yes, that's even with conference-only gameplay in the most recent season) and just 14 losses. Needless to say, the Blue and Gold Women's Basketball team is ready to instill pride this upcoming winter season.  
The action begins in the John Carroll University Tip-Off Tournament, when the lady hoopers look to tally a victory in a crosstown matchup against Case Western Reserve University on Friday, Nov. 12 at 8 p.m. at the DeCarlo Varsity Center on John Carroll's campus.
Men's Basketball 
After suffering a devastating loss in the OAC quarterfinal, the JCU Men's Basketball team looks to the 2021-2022 season to pick up right where they left off. 
Jackson Sartain, a graduate student who elected to return for a final exposition, proved to be a leading force for the Blue Streaks was awarded First Team All-OAC in 2021, Second Team All-OAC in 2020, All-Great Lakes Region last season and was a member of the OAC All-Tournament Team in 2020.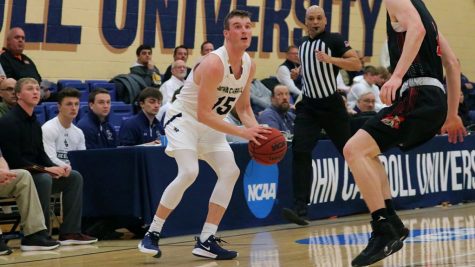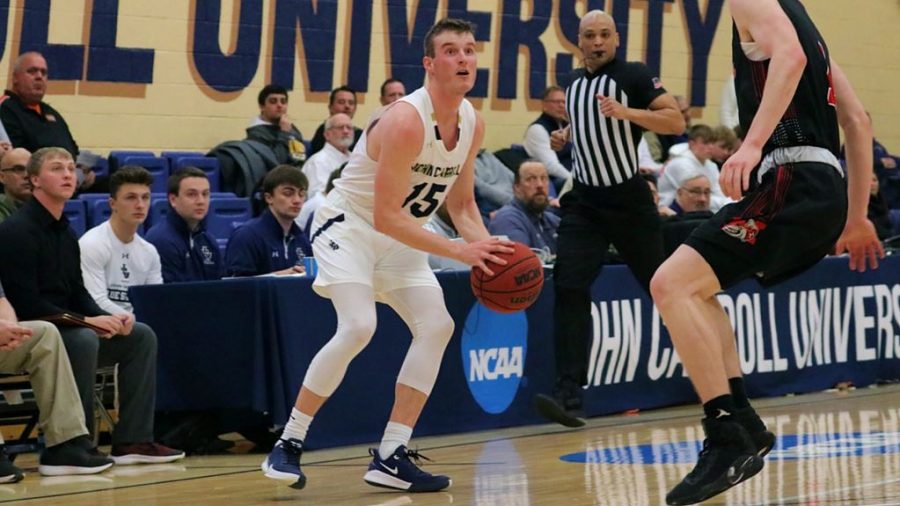 It doesn't end there. Sartain was named OAC player of the week several times, he holds program records in single season three-pointers made (102), and OAC distinctions in three-point percentage in a single game (8 of 10) and currently holds the NCAA Division III record for 3-pointers made (320). 
Under the leadership of Sartian, the Blue Streaks return experienced veterans Eric Hanna '23, Mason Trubisky' 23, and Hugh Brown '22 in a recipe for on-the-court success. The Blue and Gold travel to Hamburg, NY for the Hilbert College Classic,  a tournament style season-opener where their first matchup will be against Keuka College on Friday, Nov. 12 at 8 p.m.
Women's Swimming and Dive 
The Women's Swim and Dive team tallied their sixth straight OAC Championship last season, and they look to keep the streak alive in their upcoming winter campaign. 
The roster represents a dynamic group of athletes, many of whom have received OAC honors and champion status. Gwyneth Hamilton '23 seems to be in the spotlight, as she already took home OAC Championship medals in the 200 Medley Relay, 200 Free Relay, 100 Back, and was named All-OAC in the 50 Free.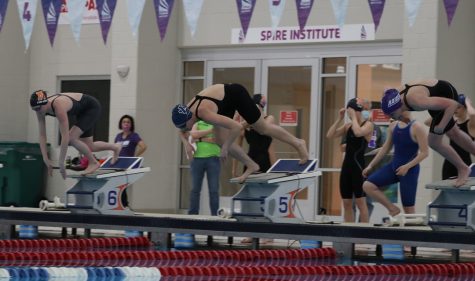 Similarly, Anna Glass '24, an OAC Champion in the 400 Medley Relay and the 400 and 800 Relays, will be a significant asset for the team. Aside from seasoned veterans, the Blue Streaks seem to have a strong incoming class to fill roles of talented swimmers who have graduated. Allie Geletka '25 and Regan Gunzy '25 are two of those underclassmen that will make a difference for John Carroll this season. 
There's also credit due for the talented group of divers, highlighting the efforts of 2020 OAC Diver of the Year Catherine Steinwachs '23.  After falling short in their first meet of the season against Ohio Northern University, the Blue Streaks are set to redeem themselves on Saturday, Nov. 6 at 1 p.m. against the University of Mount Union at Busbey Natatorium (Cleveland State). 
Men's Swimming and Diving 
In the same area of aquatic sports, the equally talented John Carroll Men's Swim and Dive team returns seven All-Americans to the roster this season. Aside from that, the team itself was ranked No. 17 in the College Swimming & Diving Coaches Association of America preseason poll.
But, John Carroll is using this ranking, which they presume should be higher, as fuel for motivation. All-American Michael Heller '23 and Westin Fishel '22 are captaining this deeply-talented team and hoping to lead a determined group of men to another OAC championship. Similar to the women's squad, the men's team looks to younger members to contribute, Bryce Liddel '25 and Austin Davis '24 are two key names to remember among a crowd of powerful upperclassmen.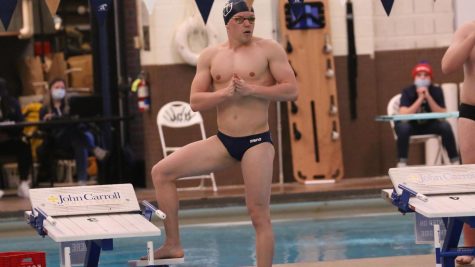 For those that would rather be acrobatically falling into the water, rather than within the pool itself, Christian Litwinowicz '22 showcases that aero-dynamicness.
 Traveling with their JCU Women's Swim and Dive team and the men's team also wishes to bounce back from a first-meet loss in their brief trip to Busbey Natatorium for a showdown against the University of Mount Union on Saturday, Nov. 6 at 1 p.m.
Wrestling
The wrestling squad looks to have potential in a full season because it was extremely limited last year. A stacked group of veterans seem to play a role in individual victories, but also in contribution to program wins. 
Jared Brezovec '22, a member of the 2020-20201 All OAC Team, a NWCA Division III Scholar All-American, a NCAA qualifier and a regional placer, returns for his final performances this year. Andrew Perelka '22, holds the program single season pin record and is known for his 2019-2020 NCAA Tournament qualifications and his selection to the All-OAC team in 2020-21.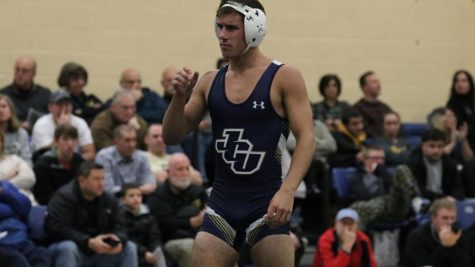 The junior class is represented by Patrick McGraw '23, another NWCA Division III Scholar All-American and returning All-OAC Team selection. As mentioned earlier, a sparse season due to NCAA Tournament cancellation means that the Blue Streaks are awaiting the arrival of a full season. The wrestlers open up against Lake Erie College on Saturday, Nov. 6 at 3 p.m. in the comfort of their home gym, Tony DeCarlo Varsity Center.