COLUMN: Don't even think about it, Dorsey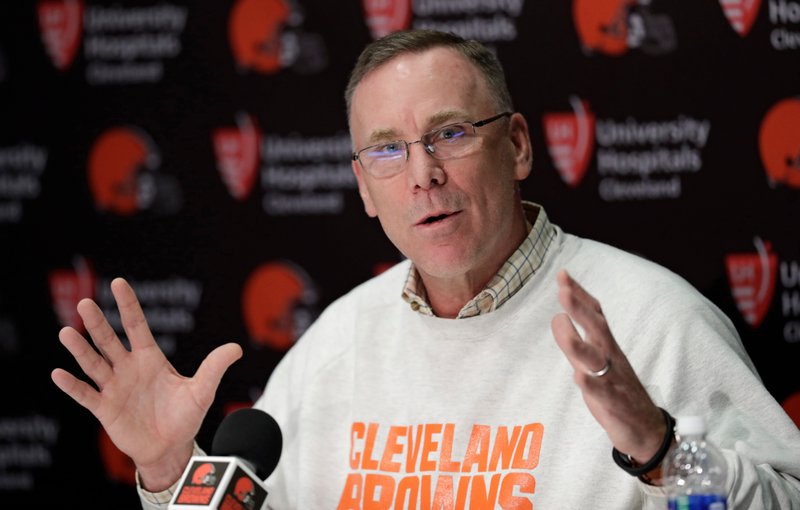 Aside from drafting great quarterbacks (NFL MVP Patrick Mahomes and rookie record-breaker Baker Mayfield) and finding Pro Bowl players in the draft (Eric Fisher, Travis Kelce, Denzel Ward, etc.), Cleveland Browns general manager John Dorsey is most known for drafting players with "red flags" or "character concerns."
Last year in the 2018 NFL Draft, Dorsey drafted Florida wide receiver Antonio Callaway — who was suspended for the entire 2017 season for his involvement in a credit card fraud scheme, went to trial for sexual assault and pled no contest for drug paraphernalia — and added Kareem Hunt to the Browns roster, a player he drafted in Kansas City, this off-season.
Hunt, who was allegedly intoxicated at the time was caught on video shoving and kicking a woman at the 9 in Cleveland. To make matters worse, there were two additional incidents where he assuaged a man at a Kansas City nightclub and punched a man at Bay Lodging Resort at Put-in-Bay, according to several police reports. 
Another draft pick of Dorsey's in Kansas City has found himself in the news for a sickening incident involving his 3-year-old son and his fiancé. Tyreek Hill allegedly punched and choked his pregnant girlfriend back in 2014. Recently, Hill has been accused of assaulting his son and breaking his arm, as well telling his fiancé in an audio recording, "You need to be terrified of me too, b- – – -," when she told Hill that their son was "terrified" of him.
The case against Hill was reopened by the Kansas City district attorney's office following the release of the audio, according to KCTV News 5. The Chiefs suspended Hill indefinitely as the investigation is ongoing.
Around the NFL, executives have told reporters that they expect Hill to be released from the Chiefs due to the incident, making him free to sign with any team. One team that should absolutely not sign him: the Cleveland Browns.
Hill is one of the NFL's most dangerous wide receivers with elite blazing speed. Dorsey — who calls himself a Christian man — believes in giving people second chances. However, in this circumstance, there is no chance to be given.
This is not a slip-up or small misdemeanor, it's Hill being accused of assault for a second time. He's had his second chance and he shattered it when he decided to break his son's arm.
Dorsey is known for taking risks on players that have a checkered past (which is why he drafted Hill in the first place) but this is not a risk, nor a chance that should be given.
I hope for the sake of the Browns and those that are victims of assault that Hill never finds himself in an NFL uniform ever again. Allowing these players to play in the NFL shows there is acceptance in their actions. There should never be acceptance in assaulting a child, woman, or any living thing. So Mr. Dorsey, don't even think about it.