Saxbys arrives at JCU leaving students happy and hungry for more
On Jan. 18, 2022, a new restaurant opened its doors on the bottom floor of the Administration Building at JCU. While the cafe was originally supposed to start serving coffee last semester, the student-run shop now provides hundreds of refreshments, pastries and savory goods a day. 
The organization was established in 2005 by Nick Brayer with the motto "make life better." After a decade, Saxbys launched the student-led employment model it has now. JCU first announced its partnership with the company on July 21, 2021; the cafe is now seeing the light of day on campus. President Alan Miciak expressed his excitement for Saxbys in the original announcement calling the experiential learning program a "real-world opportunity" for students.
Students at JCU have been raving about Saxbys, praising its delicious foods and beverages. From interesting items like breakfast grilled cheeses with tater tots and toast with sprinkles to classic staples like cold brew and avocado toast, patrons can choose to enjoy new foods and drinks or stick with their old school picks. 
"I think the food is really good, especially the breakfast grilled cheese, that's my favorite," Diana Jones '22 said. "I also really love their teas."
"It was so great to see the space being utilized again!" Emma Kosicek '23 told The Carroll News. "The coffee was also so good! It's great to have a student-run B Corp on campus. I'm so excited to see the future of Saxby's but so far I'm super impressed."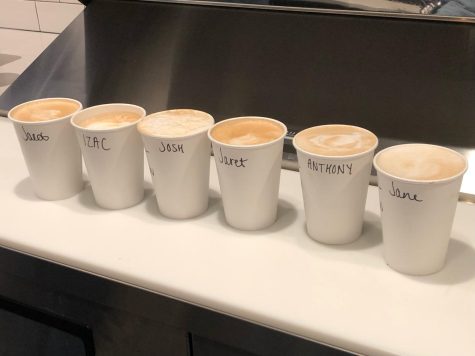 Some students have noticed that the new shop's popularity has led to long lines. However, many feel like the wait is not only worth it, but that the lines will decrease as time goes on.
"They have been doing a really good job of keeping up with the high volume of students and staff coming in especially during rushes between class periods," Jones continued. "I know it's not easy for them, especially since they just opened and I'm sure they're still trying to learn the ropes. I do hope it settles down once we get more into the semester because there are long lines often and it can get pretty packed."
JCU students completely run the restaurant from baristas to CEO. According to Corinne McDevitt '23, an employee at the establishment, the work environment is positive. 
"Saxbys has been such a fun place to work," McDevitt told The Carroll News. "It is so great to be part of a team that is dedicated to lifting each other up and supporting one another. We are learning this together so we appreciate the patience and kindness of all our guests."
Saxbys is currently hiring. If you are interested in applying please visit their website here.
Laken Kincaid is a sophomore Campus Editor from Beckley, West Virginia. They can be reached via email at [email protected] or through Twitter at @lakengkincaid.