Buffalo Strong: Do it for Damar
On Sat., Dec. 31, the nation waited for the clock to reach midnight, as we looked to embrace new beginnings that encapsulate the coming new year. Yet, soon after the celebrations of 2023 fizzled out, the hustle and bustle came to a deafening halt.
Just two days into the turn of the calendar, the country stood in shock as a nightmare unfolded on national television. Damar Hamlin, a safety for the Buffalo Bills, fell to the ground following a collision during a highly anticipated National Football League game against the Cincinnati Bengals. The game itself held significant weight for post-season standings as the American Football Conference consists of juggernauts that have a history of statement victories within the league.
Hamlin's fall was quickly attended to by medical staff with onlookers anxiously awaiting his prognosis. 
Time seemed to stand still.
But, concern grew as cameras panned to players on the sidelines; looks of terror, confusion, and disbelief freezing their expressions.
As the stadium stood in silence, it was revealed that Hamlin was receiving CPR and proper resuscitation from medical staff. The direct contact from the hit resulted in a rare, irregular heart rhythm that caused immediate cardiac arrest. Hamlin was rushed to a hospital in Cincinnati as fans, players, coaches and NFL administrators hoped for life-saving treatment for the unprecedented event. The game was ruled a "no-contest".
After Hamlin and the medical team left the field, a universal "numbness" weighed heavy on the lives of all those who were tuned into the game. There were truly no words to describe the magnitude of devastation and sadness that was felt.
But, in true Buffalo fashion, Hamlin fought for another chance. The 24-year-old was stabilized and intensely monitored until his vitals reached a point where he was able to go home, just nine days after he collapsed.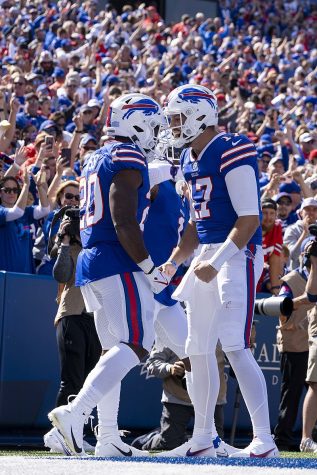 Hamlin was headed back to his city, back to where he is so loved and supported by a community of devout fans that feel just like family. Hamlin battled for a second chance at a life that isn't supposed to end so instantly.
The NFL, in combination with its loyal fan base, had an immense feeling of relief when hearing of Hamlin's incredible recovery and rehabilitation. The care and skill that was involved in the life-saving actions of trainers, doctors and medical personnel is something that will rewrite history books for the remainder of time. 
Hamlin's cardiac arrest taught a variety of pivotal things. It taught us to remember that professional athletes are real people first. It showed us how essential medical staff and athletic trainers are to the world of sports. We learned that commonality can be reached when we all prioritize the meaning of community and hope. Most importantly, we were taught that we aren't invincible. Hamlin showed us that we need to face each day with a healthy sense of gratitude. The message has been delivered before but there is no better time to reiterate that we must tell people we love them because each day isn't guaranteed.
So, with each sunrise and sunset, remember to open your heart to the spirit of life. Embrace the journey, learn to forgive and show that you care. Do it for Damar Hamlin.