WJCU students receive national broadcasting awards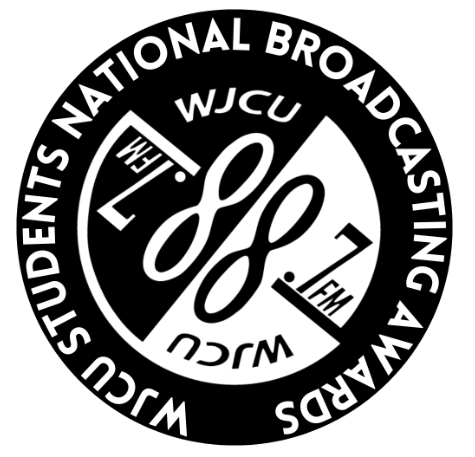 Over the past academic year, the WJCU 88.7 radio station has accumulated multiple awards from broadcasting organizations across the country, signaling a revival in the school's media organizations since the start of the COVID-19 pandemic.
Previously, the station's premiere hip hop show, 808s & Mixtapes, won third place in the specialty program category at the Broadcast Education Association (BEA) conference last April. This season, 808s & Mixtapes again took home some hardware, winning third place in the U.S. on-air personality category from the College Broadcasters Inc. (CBI) and second in the on-air personality category from BEA. 
"Awards be awarding," Zachary Sinutko '24, the founder and executive producer of 808s & Mixtapes told The Carroll News. "We are so privileged to have such overwhelming support from John Carroll University, the Tim Russert Department of Communications and the WJCU community as a whole. Without this support we wouldn't be as nationally recognized as we are." 
WJCU 88.7 news director Laken Kincaid also placed second in radio hard news reporting at BEA for their story on the University Heights local recycling plan. Additionally, they received the BEA Founders Scholarship from the organization's board of directors. 
Furthermore, other WJCU members won awards from IBS including members of the sports team such as Logan Potosky '23, Evan Richwalsky '24 and Bobby Gerome '25 who were given the award for best sports play-by-play and Ray King who won the best community volunteer program/personality award. Both the 808s & Mixtapes team as well as Kincaid were also nominated as finalists for awards at IBS. 
"I was elated when I got the call about winning the IBS award," Gerome stated. "I was incredibly honored to just be nominated in the first place. Logan Potosky is one of the best play-by-play guys in college right now and Evan Richwalsky is one of the best producers in college radio. Because of the great staff we have at the station and the incredible leadership from Jasen Sokol, I know this is only the first of many awards that WJCU will win in the near future."
Because of these awards, WJCU was recognized by BEA as one of the top 25 collegiate audio programs in the nation, a trend Sinutko believes will grow in the future. 
"808s & Mixtapes has had six national student production award nominations over the last year alone," he elaborated. "This puts us on track to be one of the highest nationally recognized WJCU programs in history. That's something to put on a resume if you ask me."