JCU Men's Golf finishes season in sixth place at OAC Championship
The John Carroll Men's Golf team has concluded their spring season with a sixth place finish at the Ohio Athletic Conference Championship held at River Greens Golf Course in West Lafayette, OH. 
Over the span of this three day event, the team played 72 holes as they played 27 holes on day one, 27 on day two and 18 on the final day. Scores were tallied by 18 holes, meaning the final nine holes played on day one and the first nine played on day two were combined for the second grouping of 18 holes. 
After the first 18, the Blue and Gold found themselves in seventh place, trailing behind Heidelberg by just two strokes. Jack Wymard '23 led with a team low of 77 as Grant Lumley '24 followed behind by just one stroke. Jacob Hazen '24 and Zack Brinks '24 each shot a 79, while Anthony Nuzzo '24 added an 82. 
As previously mentioned, the second round of 18 came from the combination of the last nine of day one and the first nine of day two as the Blue Streaks shot a team score of 306. Hazen improved by six strokes as compared to day one with his individual score of 73. Wymard improved by one, while Brinks shaved four strokes off his day one score. 
After the third round of 18, John Carroll remained in seventh place as they were unable to overcome the inclement weather. Nuzzo had the team low for this round with a 75, Lumley followed behind by one stroke with a 76. Wymard shot a 78 while Hazen and Brinks once again tied with a 79. 
Sunday proved to be the best day of competition for the Blue and Gold as they shot their team low score of 293 to tie with the winners of the tournament, Otterbein University, for the final day of competition. 
Brinks kept the score to a minimum with a 71. Wymard remained consistent as he shot a 73. Lumley shot his individual low of the tournament with a 74, while Nuzzo once again recorded a 75. Hazen ended this tournament with a 76 on the last round. 
After tallying each score, the Blue Streaks shot a combined team score of 1,220 after three days of competition, playing 72 holes between five players. Overall, Wymard and Brinks tied for eighteenth for the Championship.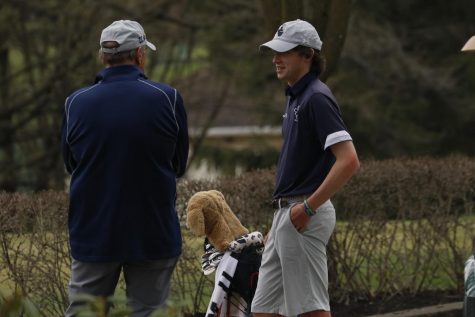 "OAC's was a rough finish to the year but our team did not give up which was nice to see for our final round," said Wymard. "It was nice to see the team all play well on Sunday. Everyone was pretty disappointed with how we finished off this season. We all know we are a better team than how we played this weekend. But, we are all close and have made so many friends through the team so it was great to see us have a good final round."
The Blue and Gold will be back in action in the fall as they return the majority of the golfers back for another year. John Carroll will miss Jack Dever, Nelson Pike, Wymard and Cutler Zamecnik on the course next year as they graduate these four Blue Streaks. 
"I would say that the season was filled with great camaraderie and memories," finished Brinks. "We really fought through some adversity and leaned on each other for leadership. We worked very hard to put ourselves in a position to win OAC's, we just got off to a really slow start out of the gates. Our final round proved what kind of guys we have on this team. We never gave up and tied for the low round on Sunday. We will greatly miss Wymard and his leadership, additionally all of the seniors who gave so much to the program. This sixth place finish will serve as motivation for next year's squad to try and earn an OAC Championship and the level of play it takes to achieve that."