From Lebanon to the United States, Aboumitri is finding his stride for JCU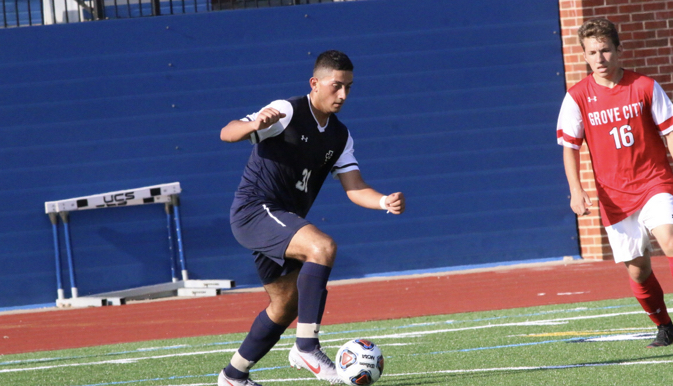 Mario Aboumitri doesn't remember much from his first journey to the United States, but from what he does recollect, he knows that his parents made the right decision.
When he was just six years old, Aboumitri boarded a boat and left his home country of Lebanon. He arrived in the United States with a new life, new opportunities and a chance to succeed in all things, including soccer.
"We moved here because there was a war between Israel and Lebanon," Aboumitri told The Carroll News, recounting his early childhood years. "My parents decided to get out of the country and move to the U.S. 
"My memory of the war is very vivid. I have slight memories of moving. … We were on a boat so I remember that part mostly. My parents made it so we didn't have to worry about anything. They took care of everything and moved us away from all the distractions."
Since moving to the United States, Aboumitri started to play soccer. However, it was his home country that fostered his passion for the game.
Every summer, he and his family travel back to Lebanon to visit. He finds himself immersed in the country's culture, feasting on the food and spending time with his family. Most importantly, he hones in on the craft of playing soccer.
Aboumitri spends his summers playing for competitive Lebanese soccer clubs and competing against premier talent. 
"They take clubs very seriously down there," he said, describing the soccer culture in Lebanon. "It is different. There is a different flair, a different touch. It's different than here. Everyone there is so direct. People are taking people on. It is more physical. It is a great atmosphere."
Playing in his home country has aided Aboumitri in finding success in his first year with the John Carroll University men's soccer team. He has started in 10 games and played in all 11. As a freshman, he has already scored two goals and, most recently, added an assist against Muskingum. 
Not many players in the Ohio Athletic Conference have the luxury of playing competitive soccer in another country. That experience has paid dividends for Aboumitri on the field as a rookie.
"It has helped me tremendously. It has gotten me used to the physicality of the college level," he said. "People always talking. The touch. I have gotten used to it because I have been playing it for five years now."
Playing soccer in Lebanon is a luxury, says Aboumitri, but living there … not so much.
"From Lebanon, there are so many complications — don't get me wrong, Lebanon is a great country and has a great culture — but the government and everything is a little more messed up," he said. "It is a third-world country. It is crazy. 
"Everything in the U.S. is so advanced," he said. "When you come here, you understand the blessing of fresh water and having food on the table every night. Over there, it is a third-world, rural area."

Playing soccer in the 'States is what has made Aboumitri who he is today and what he calls a "blessing."
"When I got here, it was soccer [I carried] throughout my whole life. I started soccer right when I got to the U.S. It was a great opportunity for me.
"The coaches in the U.S. have different mindsets than overseas. It has built my mindset … It has worked out really well at the college level."

Aboumitri had a career high of four shots against Muskingum. His journey from Lebanon to the United States has worked out well for the Blue Streaks. JCU has an 8-2-1 record this season.
"It has been a great start so far. [I am] mostly getting used to the players. The players came [to me] with open arms and taught me the way they play. It was a great way to start off the season. Overseas taught me the physicality. Being able to work off [of other] players works well with how we play here at John Carroll. It has been a great start so far."