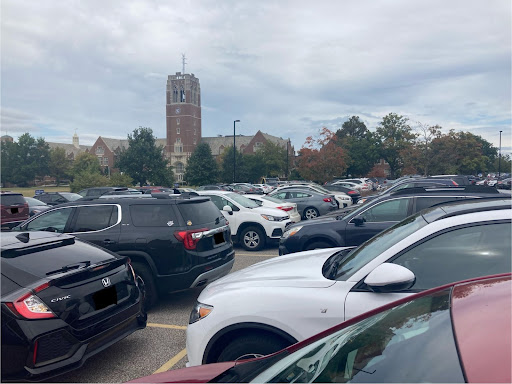 Ever since the Belvoir lot permanently closed at the start of the 2022-2023 academic year to begin the new fieldhouse project, parking has been a popular topic for conversation around the John Carroll community. The Belvoir lot had approximately 300 spots and its closure caused the parking situation to change dramatically. Here's the information you need to know about parking at John Carroll University.
Parking Population
Currently, there are around 3,200 students attending John Carroll University. Among this population, 552 students (or approximately 18%) are commuters, meaning they drive to campus every day.
Also, some students living on campus choose to purchase a permit enabling them to keep their car at John Carroll. Around 448 residents (which is roughly 14%) have a car parked in one of JCU's parking lots.
In addition, there are about 700 faculty and staff members and 160 contract employees (custodians, construction workers, dining hall workers, etc.) parking at John Carroll. These individuals are both full and part time with varying schedules.
Whenever there are events on campus such as career fairs, athletic matches or presentations, people attending that aren't students or faculty/staff members will park their vehicles on John Carroll grounds.
Locations and Descriptions of JCU Parking Lots
According to the JCU website, as soon as permits are issued to students, they're only allowed to park in the designated parking lot that is listed on their passes. Leaving a vehicle in a parking lot that is not written on a student's permit will result in a violation appearing on their Banner account.
The Carroll Expansion Lot is between the Dolan Science Center and Boler College of Business. It is open to students and faculty/staff in marked areas all day, every day. The spots that are reserved for faculty/staff are in effect Monday throughFriday between 7 a.m.- 5 p.m.
The parking lot just outside of Rodman Hall is for prospective students and their families, which always requires a visitor's permit.
Rodman Drive, located between the O'Malley Center and Rodman Hall, has handicapped parking and a handful of spots that are just for certain people such as the president and deans.
Dolan East and West Lots, the parking available on both sides of the Dolan Science Center, are typically for general parking unless otherwise noted. These lots are open to students and faculty/staff in marked areas all day, every day. The spots that are reserved for faculty/staff are in effect Monday through Friday between 7 a.m.-5 p.m.
Dolan Center Garage, which is located under the Dolan Science Center, is an underground parking garage that has approximately 35 spots assigned to specific faculty/staff members with special parking permits.
The Boler Lot, at the Boler College of Business and the Grasselli Lot, adjacent to the Grasselli Library and Breen Learning Center, are only for faculty/staff Monday-Friday between 7 a.m.-5 p.m.
Main Drive, which is on the east side of John Carroll between the field house construction and Dolan East Lot, is general parking unless otherwise noted by signs.
Auxiliary Drive, which is on the west side of John Carroll between Murphy Hall and the Dolan West Lot, is also general parking unless otherwise noted by signs. This lot is open to students and faculty/staff in marked areas all day, every day. The spots that are reserved for faculty/staff are in effect Monday through Friday between 7 a.m.- 5 p.m.
The Commuter Overflow Lot, located just off-campus directly across from Pizzazz and adjacent to the former BP gas station, is a convenient parking lot for people having trouble finding somewhere to park on the main campus. Per the City of University Heights, parking is prohibited in this area everyday from 1 a.m.- 6 a.m.
Before the start of the 2022-2023 academic year through an agreement with JCUPD, Notre Dame College paved a 150 spot parking lot on their property meant for JCU freshman and sophomore resident students to keep their car when they're not using it. This area is safe and constantly patrolled by NDC police. The Green Road Jewish Family Experience Temple Lot (JFX) has 75 spots and is also reserved for JCU freshman and sophomore residential students.
Visitor Parking
In order for visitors to park at JCU, they must purchase a visitor's permit at the front gate entrance to campus. This gives them the ability to park in any general and visitor designated area until 7 a.m. the next business day. Students using a visitor's permit will be issued a violation since they're supposed to have a commuter or resident's pass.
Handicap Accessible Parking
In every lot, there are handicapped spots reserved for cars showing a valid state-issued handicapped permit. These must be displayed in addition to a permit given by JCU.
Current Issues with Parking
The JFX Lot has opened its parking lot to students for several years. Prior to theCOVID-19 pandemic, John Carroll owned this building on Green Road, granting student's access to the entire parking lot. When the pandemic hit, John Carroll was able to have every person with a permit park on the main campus since their population was a lot smaller and there wasn't as much faculty. After remote classes ended and in-person learning returned, JCU was given only 75 parking spots by JFX to accommodate its students.
The main issue with John Carroll's parking situation is that Freshman and Sophomore resident students park their cars on the main campus parking lot when they aren't supposed to and don't return their vehicles back to their designated lots (either at Notre Dame College or JFX). As a result, there is a decrease in the number of spots available, causing the lot to fill up fast and people to drive around campus numerous times just to find somewhere to park. Despite JCUPD ticketing these vehicles, more cars from the off-campus lots proceed to park at the main campus.
On the weekends, parking should be open to visitors and there has to be enough room for tailgating to occur before football games, as tents, grills, chairs and coolers take up parking spots in addition to cars.
Instead of parking at JCU's main campus, Freshman and Sophomore resident students should be utilizing the shuttle service to get to and from John Carroll if they must access their vehicles. The hours of the shuttle service are as follows: 7:30 a.m.- 10:30 p.m. Monday through Friday and 12 – 11 p.m. Saturday and Sunday. The shuttle follows the same route all day, picking students up from the Recreation Plex Door at Belvoir Blvd. every half hour then driving to JFX, Notre Dame College and back to the Recreation Plex Door.
Another issue with parking is when permits become available to purchase just before the start of the new academic year, some aren't aware the window to buy them is open. There is a concern that people don't pay attention to information presented on Inside JCU or read emails coming from JCU Parking about reserving a permit for their vehicle. As a result, cars without a permit are being left in parking lots, therefore taking spots away from vehicles that have permits hanging from their rearview mirrors.
JCU Parking emphasizes that it's extremely important to always pay attention to your emails especially when it's time to reserve a permit. The amount of permits that are available at the start of the purchasing window is very limited, which requires people to buy one right away. The only vehicles that are permitted to park at John Carroll University are the ones that have permits.
Potential Solutions for Parking Issues
Once the construction at the library is finished, the parking lots there that are currently closed will reopen allowing for faculty/staff to have more spaces to park. Instead of a parking garage, the fieldhouse project will implement parking spaces surrounding the new community center with whatever room there is left in that area. As soon as this project is completed, parking will be open there as well.
When John Carroll first invited people back to campus after COVID-19 slowed down, JCUPD was short-staffed, therefore not allowing much patrolling to take place in parking lots and tickets to be issued to vehicles left in the wrong lots. Now, JCUPD is fully staffed and they are patrolling the parking lots 24/7 on-foot, with bikes and with cruisers while actively handing out violations.
While preparing for move-in day over the summer, resident students should take time to consider whether or not bringing their vehicle is imperative. For example, if someone were to keep their car in one of the off-campus parking lots and only use it once a month, then it probably wasn't necessary to have a car with them while at college. Working off-campus to pay tuition and attending to family every weekend are more legitimate reasons for leaving a car in a parking lot.
Jenna Seifried is the coordinator of JCU Parking. She told The Carroll News that if students ever have any questions or concerns about parking at John Carroll, they can visit her office in Room 129 of Rodman Hall between 8:30 a.m.- 12 p.m.